Christmas gift ideas? Shop for Christmas Gifts with Purpose  at the BPI Sinag ng Pasko Christmas Bazaar on December 6 at the Glorietta Activity Center, Glorietta Mall, Makati City.
I love to give Christmas gifts that are locally crafted by small and medium scale enterprises. There is a lot of heart in it. If you are like me, you find beautiful gift items from social enterprises that help Filipino communities at the BPI Sinag ng Pasko Christmas Bazaar happening on December 6, 2016 at the Glorietta Activity Center, Glorietta Mall, Makati City.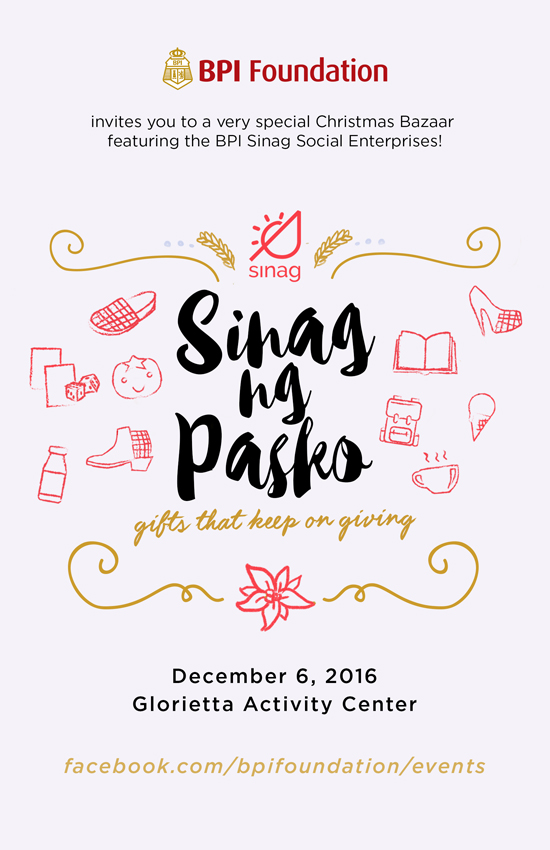 Many of these social enterprises have been part of BPI Foundation's iconic BPI Sinag Business Challenge, a program that aims to support and scale-up businesses with the triple bottom line – people, planet, and profit. The Sinag ng Pasko Christmas bazaar, which is now on its second year, is one of the opportunities organized by BPI Foundation to help social enterprises reach out to new market.
With a wide range of goodies that include food and beverage, toys, personal care an home products, fashion and tech accessories, you will be sure to find something to give the important people in your life.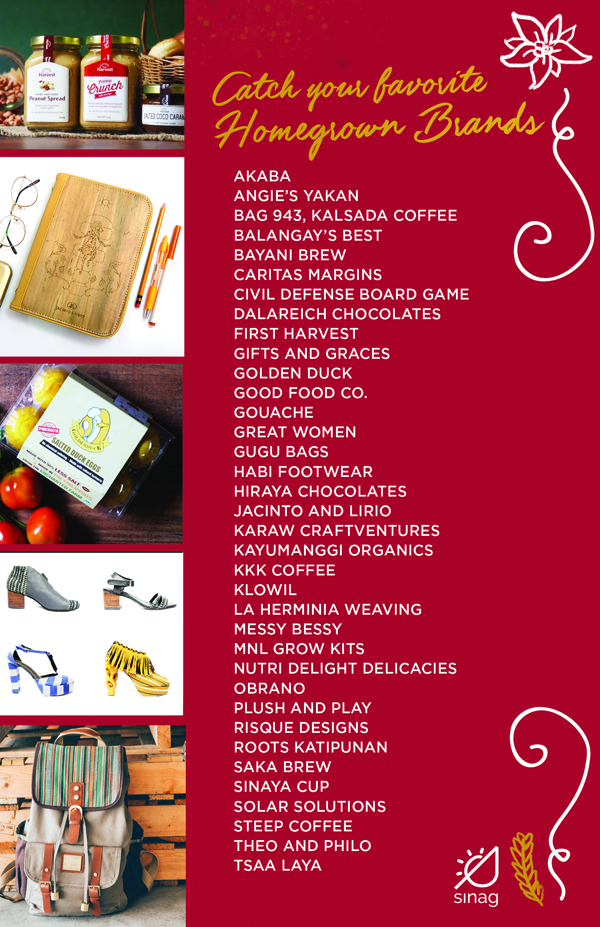 Here is a list of social enterprises participating at the BPI Sinag ng Pasko Christmas Bazaar.
Food and Beverage
Balangay's Best – seafood snacks and other food items made by fisher folk communities from Bantayan, Cebu
Bayani Brew – brewed iced teas made from all-natural, native ingredients — curiously yummy, ridiculously healthy, and proudly homegrown
Dalareich Chocolates – native chocolate solids made from pure roasted cacao from Bohol
First Harvest – a proudly-Filipino brand, that uses choice ingredients to whip up healthy and delicious food products such as peanut butters and coco jam
GoldenducK – premium salted eggs that use an all natural turmeric dye to give their salted duck eggs a bright yellow hue, instead of the carcinogenic Sudan red dye used in others, and uses 50% less salt than traditional salted duck eggs. They also make duck patties and sisig
Good Food Co. – brings fresh and ethically sourced organic produce from smallholder farmers to kitchens
Hiraya Chocolates – single-origin chocolate bars and chocolate products from cacao beans sourced around the Philippines
Kalsada Coffee – Philippine specialty coffee that aims to support Filipino coffee producers and their dedicated efforts to bring quality coffee to market.
Kayumanggi Organics – wild ginger teas sourced from local farmers from Surigao del Sur and Aurora.
KKK Coffee – coffee products and café that seeks to promote Philippine coffee, not only from bean origins, but also to recipes and to brand
Nutri Delight Delicacies – innovative nutritious delicacies from all over the Philippines
Obrano – hand stitched goods made from genuine leather and handwoven textiles
Saka Brew – premium roasted rice and corn coffee
STEEP Coffee – coffee blends without the need for anything more than boiling water
Theo and Philo – chocolate bars made from cacao from Davao and sugar from Bacolod.
Tsaa Laya – premium line of organic herbal teas
Toys and Games
Karaw Craftventures – a design hub that upcycles scrap materials into artisanal products made by the inmates of the Naga City jail
Plush and Play – safe, environmentally-friendly and educational toys
Civil Defense Board Game – a simulation table top board game that introduces the basics of disaster risk reduction and humanitarian action to players with or without any background in disaster risk reduction or humanitarian work.
Bags
Clothes, Shoes, and Accessories
Anthill Fabric Gallery – scarves, jackets, skirts, and other contemporary lifestyle products made from Philippine weaves
Habi Footwear – environment-friendly, stylish and comfortable espadrilles and sandals
Klowil – t'nalak woven by the T'boli weavers of South Cotabato
La Herminia Weaving – handwoven cloth from indigenous fibers like piña, silk, abaca, and cotton
Risque Designs – a Filipino lifestyle brand that brings forth modernity and luxury with its meticulously hand-crafted ready-to-wear and ready-for-runway footwear pieces
Personal Care and Home Products
Messy Bessy – natural, biodegradable, non-toxic personal care and home products
MNL Grow Kits – "agriculture in a box" products that lets you grow your own plants from the comfort of your home
Solar Solutions – provider of renewable energy solutions products and services
Assorted Products
Angie's Yakan Cloth – handwoven yakan cloth, table runners, wall decors, coasters, placemats,pillow cases, bags
Caritas Margins – a variety of fashion accessories, personal care, and food products made by Caritas Manila's urban poor farmers
Gifts and Graces – fair-trade bags, toys, and accessories
GREAT Women – food items and spices, textiles and silk-based goods, and high-fashion jewelry and accessories
Roots Katipunan – woven bags and artisanal products
Support our Filipino Artisans! Save the Date! December 6, 2016 at the Glorietta Activity Center, Glorietta Mall, Makati City.
Learn more about the BPI Sinag ng Pasko Christmas Bazaar by following BPI Foundation on Facebook .