"One good teacher in a lifetime may sometimes change a delinquent into a solid citizen." Philip Wylie
Don't we all remember the teachers who influenced us when we were children? When I think of teachers, I remember my dad Jose P. Lardizabal (Accounting / MBA teacher) and mom, Salustiana Veloso (English and Speech teacher). I knew the students under my parents were appreciative of their education because they would often rush up to greet them during our family days out. I like it when hard-working teachers are given recognition . Teachers lay the foundation for future generations. The knowledge, values and attitudes they imparted in us made us what we are today, together with the family values. Many times, we never have the opportunity to thank them for their positive impact in our lives. Now, however belatedly we have a chance to give due recognition to those who personify the best qualities of the profession. National Teachers' Month provides such opportunities where each of us can take time to honor our teachers. Even companies and school give their own tribute.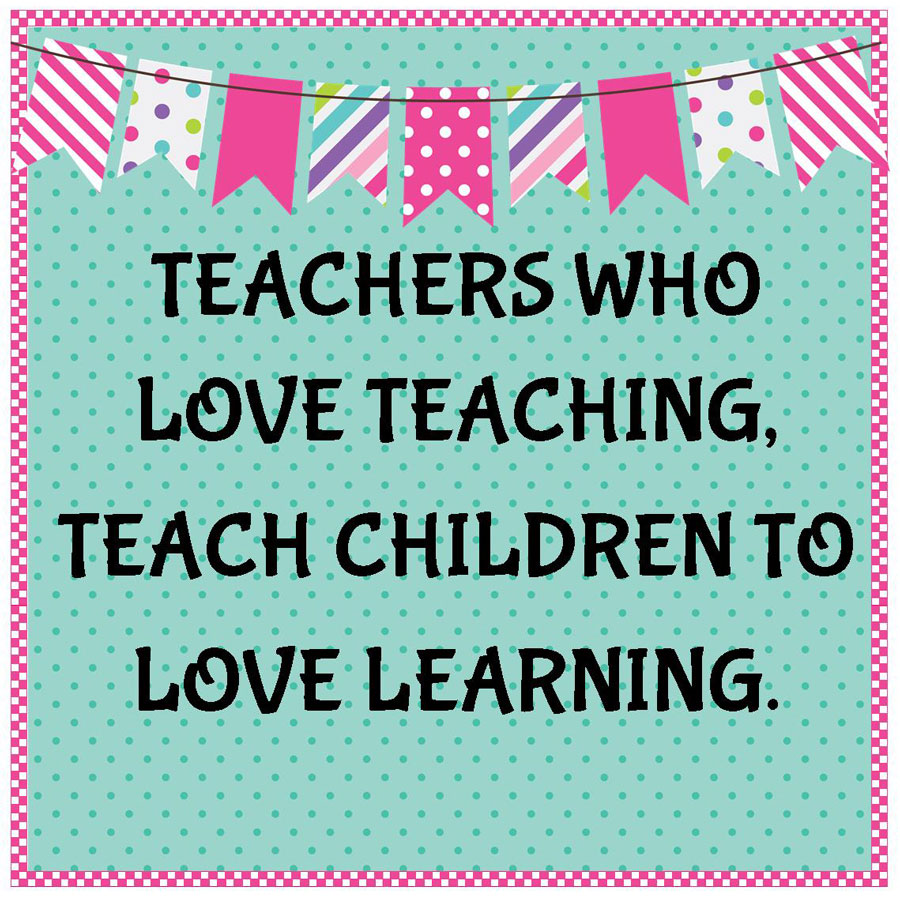 For instance, the PLDT-Smart Foundation's Gabay Guro (2G) is throwing the biggest tribute ever for our beloved teachers as it celebrates Teachers Month through a grand gathering on Oct. 26 at the MOA Arena.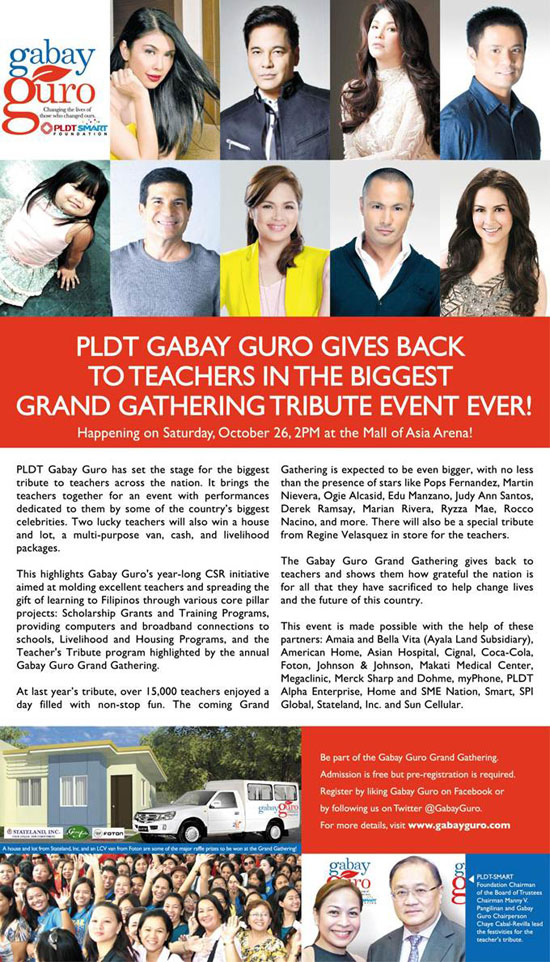 Hosted by no less than TV 5 artists Edu Manzano and Derek Ramsay , the annual Grand Gathering breaks the so-called network-exclusivity "barrier" as it will also feature performances by the country's biggest celebrities from both ABS-CBN and GMA-7. Among them – Ryzza Mae, Anne Curtis, Judy Ann Santos, Marian Rivera, Martin Nievera, Pops Fernandez and Rocco Nacino. The Gabay Guro team, led by PLDT-Smart Foundation Chairman of the Board of Trustees Manny V. Pangilinan and 2G Chairman Ms. Chaye Cabal-Revilla, will be there to lend their invaluable support to the teachers.
Not only will the teachers get to be honored by the celebrities and honored guests but a big surprise awaits them —a house and lot courtesy of Stateland, Inc. and a brand-new Foton L200 van – for the two luckiest teachers this year. Other prizes up for grabs are livelihood program packages and cash gifts.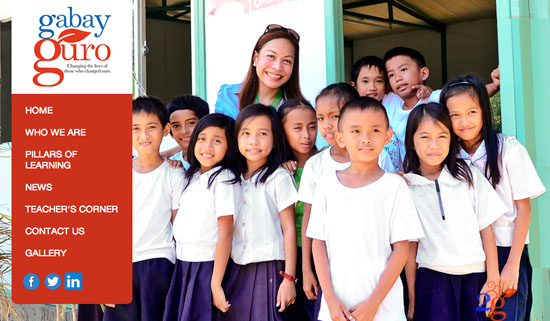 Gabay Guro is an education arm and a flagship project of the PLDT-SMART Foundation. It is a program run by volunteers composed of executives from the PLDT Manager's Club Inc. (PLDT MCI). It is the brainchild of MVP's VP for Finance, Ms. Chaye Cabal-Revilla, and is supported by the PLDT-Smart Foundation of the Manny V. Pangilinan group.
For the last six years, Gabay Guro has been in the business of "changing the lives of those who changed ours" by focusing on the core program of the foundation benefiting the Filipino teachers. The core program is defined by the pillars by which Gabay Guro is anchored on – Scholarships, Trainings, Housing and Educational Facilities, Livelihood Programs, Broadbanding and Computerization and Teachers' Tribute.
The Teachers honored on this day will surely appreciate the Gabay Guro efforts. Each one of us can still offer our own tribute. The best way to honor to the teachers in our lives is to honor their lessons, the lessons they imparted to us by living a life according to their teachings.
For more information, please visit the Gabay Guro official website, www.gabayguro.com and like the Facebook Page www.facebook.com/gabayguro or follow us on Twitter @GabayGuro, where you can also have a chance to get tickets to the prestigious Grand Gathering at the MOA Arena on Oct. 26.