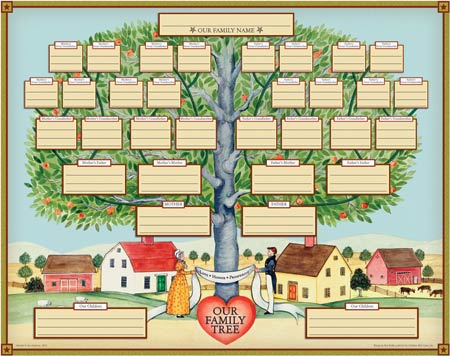 When I was new in my grief, many well meaning friends and relatives advised me this and that. I don't know who among them suggested the "Healing of the Family Tree" and gave me a prayer. Each night, I was to say this prayer hoping in the belief that the curse of family deaths would end . (My 2 brothers, and a mother died before my son's death in 2000) . As if we don't all die.
A part of this prayer goes:
"Heavenly Father, I ask You now to go back though all in my bloodline, my husband's/wife's bloodline, and the bloodlines connected to all of my family and relatives and forgive the wrongs, heal the illnesses, bind the evil deeds. I ask You Lord to break the chains, associations and links any of these may have to us here in the present. On their behalf Lord, I seek Your forgiveness, your healing and a pouring out of your Divine Love so that Your Love may now pour forth through the years and touch us in the here and now. So that Your Divine and Healing Love will take the place of all the past hurts, angers, hates, unlove of You, destructive emotions or actions and evil ties of our ancestors. So that Your Precious Blood and Divine Love and Healing will heal us of the residue we carry from our ancestors. In true faith I thank You Lord because You have said 'Ask and you shall receive, seek and you shall find, knock and the door shall be opened to you'. Today Lord I knock, I seek, I ask. All praise and thanks to You my loving Father."
Now being newly bereaved and distraught, I went along with the idea that my ancestors were so sinful that all these deaths were brought about by their sinful ways…. Yes, it must be a curse, "malas" "karma" or "gaba" until one day, I just had it.
Praying the "Healing of the Family Tree" is the most depressing thing ever. In the first place, before my son died, we underwent a public healing of our family tree at Christ the King Church through our "Couples of Christ" group. We prayed that all the cancers, diabetes , hypertension would not continue on our present generation. Also, we prayed that early death will be spared further in our families.
I believe that our families have patterns of behavior that are passed on from generation to generation. This is especially true for those with genetic predisposition to suicide, alcoholism . Some of these patterns are not coincidences. We are also adversely affected by the sins of parents, grandparents, and great-grandparents, and by the sins of the ancestors who adversely affected them.
Don't be mistaken, I believe in the Healing of the family tree. What I find truly objectionable in the prayer is guilt feelings that most newly bereaved feels whenever a priest tells them about the "Family Tree". Also, the prayer is so repititious like all Catholic prayers. Imagine praying that everyday for the rest of your lives. There is no meaning . No substance. We have no control over the sins of our ancestors. We did not cause their sins. A bereaved mother thinks her great grandfather who was a priest might have been the root cause for her son's death. Another bereaved mother attributes the death of her daughter because her marriage was not blessed in Church. Is God truly vengeful? Why are others spared? We cannot cure the sins of our ancestors but we can truly change ourselves.
We heal our family trees primarily by changing ourselves to be better persons, even much better than our ancestors could ever be. We heal our family trees by taking care of our health so our predisposition to certain genetic diseaes will be curtailed. We heal our family trees by receiving a new nature through total commitment to God . Secondly, we heal our family trees by repentance and healing. The change starts in us. Healing starts in us. It's time to stop looking back at the past and move forward now.