Even if I only stayed for the morning, I had a great time at the iblog 2 summit (view me here and here). Thank you to the organizers of the iblog 2 summit. You all did a great job. Really, a huge success in terms of registrants and quality of the speakers. (View gallery). I don't have the figures yet but the room was standing room only . We had to get additional chairs.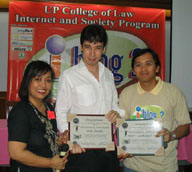 I happened to be the moderator of the Personal Blogging Panel and met Joel Yuvienco, Anton de Leon and Mike Abundo. They are so funny and perfectly suited for their topics. Mike Abundo innovated his open forum. He asked for volunteer bloggers to show off their blogs. In turn, Mike recommended strategies to improve the marketing effectiveness of the blog.
My daughter, Lauren just got in the room just before Mike closed the open forum. She readily volunteered her blog. Mike thinks that Lauren has too many "chicklets" in her side navigation. Guess what "chicklets" are!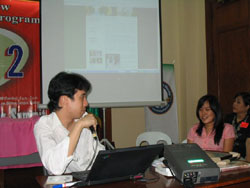 (photo courtesy of Disini's gallery)
Lauren protested , " But I like the "chicklets"
I couldn't stay till the end of the summit because I had to fix some legal problems. Glad to have also met Abe Olandres and Manuel Viloria, JJ Disini, and Adrian Sison. Incidentally, Adrian is about to launch his book on RA 9262 (Anti-Violence Against Women and Their Children Act of 2004) this coming June.
And the perks: An iblog2 t-shirt and a Certificate of Appreciation. How sweet.

Rebecca Mackinnon and Dr. Ronald Meinardus

Mike Abundo
Other Blogs that talk of the of iBlog 2 Summit:
View JJ Disini's gallery
JJ Disini
Thank you for supporting iBlog2
Blogging in RP still seen as an elitist activity
That iBlog Afterglow
The Jester-in-Exile Goes to iBlog 2
After Iblog 2
Do note fear tomorrow
Half an iBlog
iBlog 2: 2nd Philippine Blogging Summit