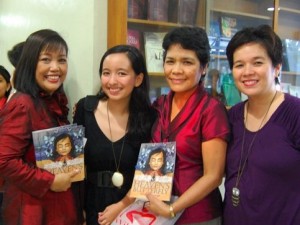 My friend Cathy and her daughter, Pia launched "Heaven's Butterfly" yesterday. The book is published by Anvil and talks about the story of their life in the first year after Migi died. It specifically describes Pia's journey from a place of sadness to a place of hope.
Pia was only seven when Migi died in 1998. Loss is a reality for children even at a very tender age. A child experiences grief in a cyclical manner. Meaning, they re-experience or re-visit the loss every time they pass through a developmental stage.
Cathy hopes that parents and teachers who read this book will come to realize that grief and loss, when it takes place, cannot just be swept under the rug. Losing someone is a real occurrence in a child's world and we must allow that child to grieve. As adults and caregivers, we must do everything in our power to help them navigate that journey from sadness to hope.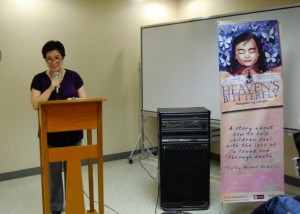 By sharing part of their journey, they hope to be able to reach out to many more children who have lost loved ones – be it a parent, a friend, a grandparent, or a sibling — all pain is the same. Whenever we lose someone we love, we are forever changed by the experience.
Cathy is right. My children though not as young as Pia went through their own grief journey when my Luijoe died.
I never really knew the depth of my children's grief. In their case, it is sibling grief. They didn't want to talk much about it. I just noticed that their grades improved tremendously soon after. They are impatient with triviality and shallowness of their peers. They are mature for their age. I knew they questioned life as ""No one I know lost a sibling".
I recall a friend who advised my daughters to ""you be sure and take care of your parents". I bet my daughters wondered ""who was supposed to take care of me?". I read somewhere that sibling grief is like ""Discount Grief." Why? Because siblings appear to be an emotional bargain in most people's eyes. People worry so much about the bereaved parents that they invest very little attention in the grieving sibling.
I believe it is the first children's book on coping with a sibling's death and I'd like to share it with you. ""Heaven's Butterfly" is a story about how to help children deal with the loss of a loved one through death (Written by Cathy and Pia B. Guballa and Illustrated by Frances C. Alcaraz). "Heaven's Butterfly" will be available at Powerbooks and National Bookstore starting February 23, 2009.

If you want a book, just email me at [email protected] and I will mail the book to your home (Philippines only). I am giving away 5 books (sorry all books out) signed by the authors and the illustrator.