Written by Edel Cayetano, originally posted at the Philippine Online Chronicles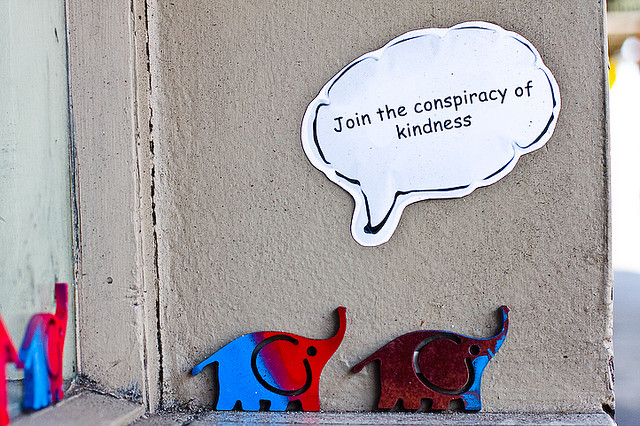 "Three things in human life are important: the first is to be kind; the second is to be kind; and the third is to be kind." – Henry James
Kindness, perhaps, is the most important virtue. It encompasses all the other values people strive for – gratitude, honesty and generosity. If people were kinder, life would be a lot easier, and the world, a better place. There could never be enough kindness in the world if you ask me, but it doesn't mean we should stop trying to be a little nicer to others.
It doesn't come as a surprise that there is such a thing as World Kindness Day every November 13. The idea for this heartwarming occasion came about when a collection of humanitarian groups came together this exact same day 17 years ago and made a "Declaration of Kindness." Likewise, on Kindness Day, everyone is encouraged to make the same declaration, and act on it. Reflecting on the kindness one has received from others is also part of the celebration.
World Kindness Day is the perfect time go beyond boundaries, race and religion. Whether you choose to volunteer your time at a charitable institution, donate books to a local library or just hold the door open for a stranger – keep in mind that there is no big or small gesture. Kindness, just like happiness, has a snowballing effect, what matters is that you practice it.
Reasons to be kinder 
It's not always easy to put the needs of others ahead of yours, but if you're willing to make an effort, it can be done. But why strive to be kind when everyone seems to be the opposite?
When you are kinder to others, you tend to be kinder towards yourself. After all, how can you give what you do not have? Being kind to yourself is also a way to feed your creative soul, as Michael Nobbs of Sustainably Creative said, "if you're someone with limited energy, then you'll want to make the very best use of what creative energy you do have, and looking after it by feeding it well is really the best thing you can do."
Nobbs also has a few ideas on how you can be kinder to yourself. Read about them here.
You get what you give. The power of attraction warrants that when you are kind to others, you inspire them to do the same. By being more thoughtful and nicer, you start waves of kindness that touch others and ultimately, come back to you.
It makes you happy. Not only do acts of kindness make the word a better place to live in, it also gives you that warm, fuzzy feeling that money can't buy.
It is good for your health. "Improved psychological health and happiness comes from thinking more positively, and kindness is a positive mental state. While kindness is about giving and being open to others, it returns a sense of well-being and connectedness to us that improves our own mental state and health," shares WikiHow. The ability to be kind is also a powerful self-esteem booster.
How to be kinder
I personally believe that kindness is innate in us, but we could also cultivate it by choice. Here are some ways to do so:
Develop a kinder perspective. WikiHow explains this in a step-by-step guide which encourages people to:
Care for others genuinely.
Don't be kind for the sake of getting what you want.
Learn kindness from others.
Be kind to everyone, not just people "in need" or those who make it easy to be kind to. Check out Tiny Buddha's '4 Ways to be kind when you don't feel like it.'
Practice an attitude of gratitude. When you constantly think of the things you are grateful for, you tend to be in a much better mood and consequently, become much nicer to others. Happy people are often the kind bunch.
Stop criticizing. When you judge others, you fail to see the beauty in them. Don't resort to focusing on other people's flaws to feel better about yourself. Not only is it a lose-lose situation, it also curbs productivity. Instead of being hard on others, try to be more encouraging instead.
Put yourself in other people's shoes. When you change your point of view, you can gain powerful insights about other people and about yourself.
Make positive observations about people. Ditch your habit of spotting the things that annoy you about people and instead, try to see the good things about them and make sure to let them know.
Be present. "The greatest gift of kindness to another person is to be in the moment in their presence – to be listening with care, and to be genuinely attentive to them." Stop being too busy and change other people's notion of you as the one who always rushes off. And stay away from your phone, please.
Awash yourself in the positive memories of the times when you were kind. According to the Positivity Blog, being kind becomes easier and easier when you remind yourself how good it felt to lend a hand.
Take the higher road. Choose your battles. Avoid unnecessary conflict and drama whenever you can because they only waste your time and energy.
Be kind to yourself. How you treat others seeps back into how you treat yourself.
More ideas 
It doesn't take much to show someone somewhere an act of kindness. Here are more ideas on how to be kinder, but of course, you are more than welcome to use your imagination.
Say 'please,' 'thank you' and 'sorry' and actually mean it.
Compliment someone at work for a job well done.
Bring snacks for everyone on your next meeting. Brownies or cookies would be nice.
Organize a clothing or food drive on your neighborhood for a local shelter. (Just in time for Christmas.)
Express your gratitude to someone who has made a difference in your life. Why not start with your parents?
Cheer up a loved one with a surprise gift. It doesn't have to be expensive. It's the thought that counts!
Stop complaining and be more conscious about the thoughts that you share with others. (Facebook is a good place to start.)
To get more inspired in striving for a culture of kindness and becoming a RAKtivist (Random Acts of Kindness Activist), visit the Random Acts of Kindness website.
Happy World Kindness Day!
*'Join the conspiracy of kindness' by Wade M courtesy of Flickr. Published under CC license.