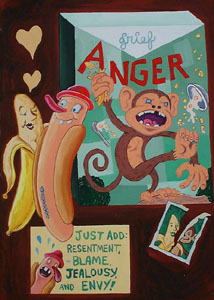 I am angry at this person. If I was working on my recovery program, I wouldn't get angry. If I was a good Christian, I wouldn't feel [tag]angry[/tag]…. If I am really using the daily affirmations about how happy I am, I wouldn't be angry. Those are the old messages that seduces us into not feeling again. Anger is a part of life. We need not dwell in it but we can't afford to ignore it. So why am I angry, you ask?
Without going into sordid details, it's about my TV interviews and our grief journey. This person hasn't even seen any of my TV interviews . This person just overheard it from someone. Who knows how that person related the interview? Yes , this person has no gender because this person could be anyone. Look, I don't even want to appear on TV. I am a shy person. But after going through the Purpose Driven Life, I have learned that…
""He comforts us in all our troubles so that we can comfort others. When others are troubled, we will be able to give them the same comfort God has given us"

""We are healed to help others. We are blessed to be a blessing. We are saved to serve, not to sit around and wait for heaven"
So if you are also snooping around in my blog to gather details about my family, go ahead, smirk and judge me. But leave my family alone. Get your facts straight. Grief is a normal process. Did you hear the part of how we turned our grief into a positive resolution by starting The Compassionate Friends Philippines with Cathy and Alma together with their husbands? Maybe you heard only that part where I talked about our pain at the peak of our grief two years ago . It's not the same situation today. Out of our loss, we could either become a bitter person or a better person. I believe there is a turning point for every bereaved parent. It was on that fateful day in November 2004 when a light dawned on me. We have changed to a better person because of our pain.
I would not be bitter, but in Luijoe's loving memory, I would be better. I would live again, because I knew that my Luijoe lived again. My own Christian faith revived. It offered meaning and purpose within the shadow of my loss. It asserted that though God does not intend my sufferings, He involves Himself in them. My pain and loss was not to be the end of life. Rather, it was to be a beginning – a beginning to a more compassionate life of reaching out to others in pain.
I am not doing TV interviews or writing blog entries to flaunt dirty laundry and put my family on the spot. Sharing my story is an essential part of my mission on earth because it is unique. If I can save one soul, one father, or mother , one sibling, one family, from the ravages of their grief journey, then my mission on earth has been accomplished.
I don't have control over how this person thinks. Sure, I have control on my attitude. Today, I will let myself be angry if I need to. I can feel and release my emotions, including anger constructively. I will be grateful for my anger and the things it is trying to show me. I am thankful that the golden light of healing is now shining on me and my family. I thank God that healing does not always come in a neat, and tidy package. I believe a picnic is not complete without ants crawling on your feet.
I've expressed my [tag]anger[/tag] appropriately without guilt. I'm now done with it.