I can't help but be happy for my cousin, Margot. Last Friday, she walked down the aisle in her lovely beaded gown with Dwight, the love of her life. I have often wondered why my beautiful, kind and smart cousin-doctor was still single at 30 something. I often dismissed it as not finding the right man. Wise girl. I never asked her but I am sure she often gets the brunt of questions from nosy relatives.
"Why are you not married yet? ang ganda ganda mo. wala pa ba nagkagusto sa yo? ."
It reminded me of the time when I was around 26 years old. My officemates (yes, annamanila our officemates) teased me that it's about time I should get married. That it wasn't good to marry late ectetera, etctera.
I panicked. I wanted to get married, have kids, be a loving wife and mom in our quaint little house with a picket fence. I wondered if my biological clock was ticking fast. At that time, my boyfriend and I were steadies for 7 years but he was still a law student.
One night, I asked my boyfriend if he planned to marry me like soon. And if he didn't have immediate plans, maybe we should already split up because I didn't want to wait 7 years with a relationship heading nowhere. I didn't want to sound like I was blackmailing him so I just said "if you don't want to marry me, I am leaving for San Francisco and enjoy singlehood with my sister, my bestfriend."
To my utter shock and delight, Butch calmly said "I want to marry you". Come to think of it, Butch was so young when he got married to me. He's two years younger but he didn't want to lose me (so he says).
So don't follow me and bow to peer pressure.
I don't know the reasons Margot chose to marry late in life but last December, she showed up with her fiancé at my aunt's party. I was pleasantly surprised. I was nosy this time.
Oh how did you meet?
Margot chimed in Oh we got reunited in friendster just last August!
I asked Friendster? Tell me about it.
My thoughts started to race recalling a previous article in the Inquirer: "One of the telling signs that relationships nowadays have gone digital is through the little detail at the beginning of Friendster profiles. The one that indicates the status of the person you're interested in."
With a broad smile, Dwight held Margot's hand and volunteered the information. Apparently, my cousin and Dwight met 7 years ago when they reviewed for the medical board exams. I think they were classmates. One night, Dwight decided to do a friend search in friendster wondering what happened to Margot.
Lo and behold! He discovered that Margot was still single. He didn't waste anytime. He contacted her.
That was August 2007. They got engaged September and married just last Friday, April 4. Talk about not wasting any more precious time.
Friendster is truly a social network that brought about positive results.
Congratulations to my dear cousin, godmother of my Luijoe and to her husband.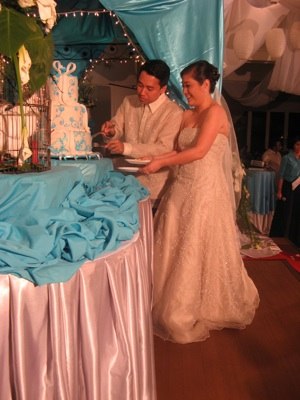 Asides- New Media Events
Parenting For a Tech Savvy Generation – POSTPONED Till Further notice
April 12, 9:00 AM at the Valle Verde Country Club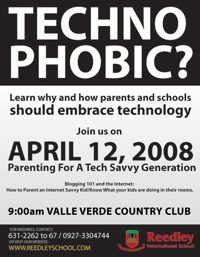 The talk will focus on Blogging 101 and the Internet: How to Parent an Internet Savvy Kid/Know What your Kids are doing in their Rooms
I will be the resource speaker. 🙂 Hope you can go.
For more details, go here
Havaianas Flipping for the Beach Contest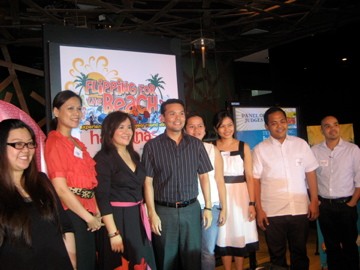 The contest, which will run nationwide from April 1, 2008 to May 1, 2008, is open to all Filipino citizens of legal age and challenges you to write (maximum of 500 words, with at least 3 photos- taken at the destination) or document via video (60 to 90 seconds running time in VCD or DVD format) about a unique beach getaway in the Philippines, focusing on the distinctive experiences that you can expect from your chosen destination.
Anton Diaz of the Awesome Planet is one of the judges. What an honor to recognize a blogger for this contest.
Check the Havaianas Beach Contest for more details
REVALÉSKIN™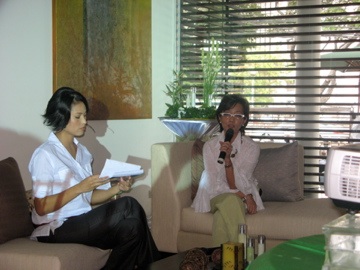 I took up the challenge to test my own skin by using the Anti-aging Skin Care Products from REVALÉSKIN™. I took a photo of my face so I could compare the effects after 12 weeks.