I still remember my first pregnancy, my first bundle of joy. It was such a beautiful occasion yet filled with anxiety. What will the future hold ?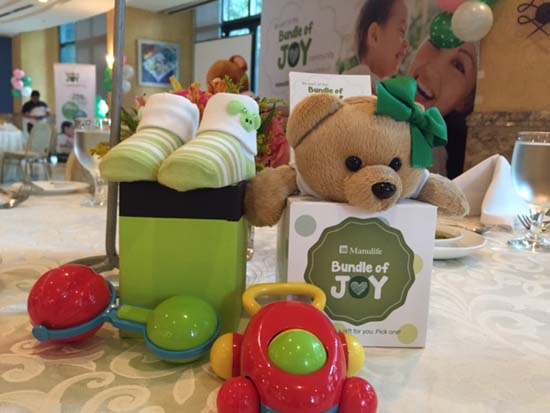 I wanted to make sure my babies would have the basic needs in life like education, food and extra curricular activities. I was stay-at-home-mom because I wanted to be there for my children, to be part of their development and see them grow.  I am glad that God has been good to us and we never lacked for anything because I knew my priorities in the household.   New parents are fortunate these days because of the availability of information in family finance.  To help expectant parents or parents of newborns journey into their new life stage, Manulife Philippines has now made life insurance more accessible through its "Bundle of Joy" advocacy. Anyone who wants to build a more secure future for themselves and their family is invited to be a part of Manulife's Bundle of Joy community by signing up here.
Expectant moms and dads, and parents of children under one year of age are entitled to a FREE one-year term life insurance coverage worth PhP 100,000. Furthermore, everyone who registers online can also access good reads and helpful tips from experts,  join various promotions and win exciting prizes and freebies.
I was able to interview Ryan Charland, President and Chief Executive Officer, Manulife Philippines on the other products and services they will offer. With this promotion, Manulife will surely have a database of parents , and from there, Manulife will engage with the parents to see what they can offer. He adds "Manulife's Bundle of Joy is part of our continued advocacy to reach, secure and protect as many Filipino families as possible."
With the help of Manulife's Bundle of Joy,  parents will be able to access life insurance coverage by having them register online and become part of a community that can support their responsibility as parents. I do hope Manulife tries to reach out to these new parents. I know one of the concerns for parents is the college education of their children.  The Bundle of Joy advocacy is a great start.  Financial protection should be in every new or expectant parent's checklist as the first step towards securing their family's future.
Just visit  Manulife's Bundle of Joy website at www.manulifebundleofjoy.com.ph or like Manulife Philippines' Facebook fan page at www.facebook.com/ManulifePH.