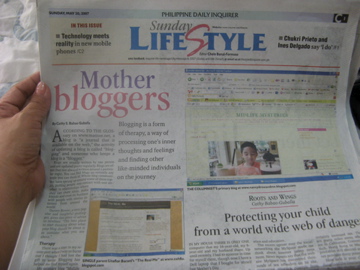 As a way of sharing the benefits of blogging to the world, Cathy wrote an article on Mother Bloggers on page C1 of the Sunday Lifestyle Section, Philippine Daily Inquirer. Mommies featured aside from Cathy and myself are from Pinoy Moms Network: special education teacher Julie Custodio-Fuertes, Golden girl, AnnaManila and single mothers Lisaflor Bacani and Ma. Luisa Pages. Of course, Connie Veneracion , founder of Pinoy Moms Network was likewise featured.
Blogging is a form of therapy. It is a way of processing one's inner thoughts and feelings and finding other like-minded individuals on the journey.

Over at Pinoy Moms Network, I have come across and made friends with some really interesting women.
Click Mother Blogger article featured at the Lifestyle section of the Philippine Daily Inquirer