"It is easy to distract ourselves with what's going on in the body when we are moving a lot or doing a lot of things. But when we slow down, we begin to wake up, wake up to the truth of who we are and where are at the moment" – Dona Tumacder-Esteban, August 2014
The toughest journey in my life was learning to live after the loss of a son. Denial and distraction only numbed the pain .   I did not know what hit me  back in 2004  while I sat on the living room couch. Alone and frustrated, I prayed to God, and my beloved Luijoe on  what I could do to fix my family life. I felt everything was falling apart. Sitting still on the couch, I felt the answers flowing through my mind.  A touch of an angel…my angel Luijoe. I felt the comfort of my son's love .  From that day on, I fixed my life, one baby step at a time. It is true that when we slow down, we begin to wake up.  It is waking  up to the truth of who we are and where we are at that moment. One of the first things I did in 2005 was to lose weight , which meant exercising at the gym. It felt great to lose all that fat. Ten years has passed me by,  and life is good. Living a  new normal  now,  meant  gaining new friends, knowledge and experience.  I am a work in progress and need to work on improving myself.
Jane Uymatiao, a dear friend and business partner is part of my new normal because we met when we ventured into blogging in 2006.  A certified Yin Yoga teacher herself, she  invited me to join "Wellbeing from the Yin-side" together with four resource persons and her Yin Yoga teacher , Victor Chng.  I don't really know much about yoga except that I think the poses are challenging. Still, I came with an open mind.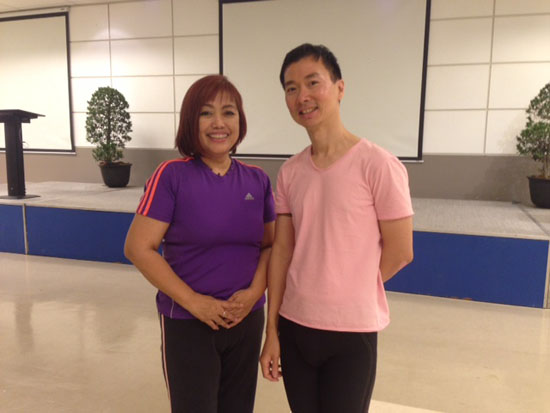 The four resource speakers were all amazing. "Waiting for the World to Change? A Holistic Look at Behavior Modification" was done by Ria Tirazona. Her talk explored what it is that holds us back from breaking free from our habitual patterns and what stops us from letting go of habits that limit our potential. Through building awareness about the relationship between behaviors and the perceptions or mental processes behind it, we can take the steps to modify behaviors, effect personal transformation, and carry this out to fruition.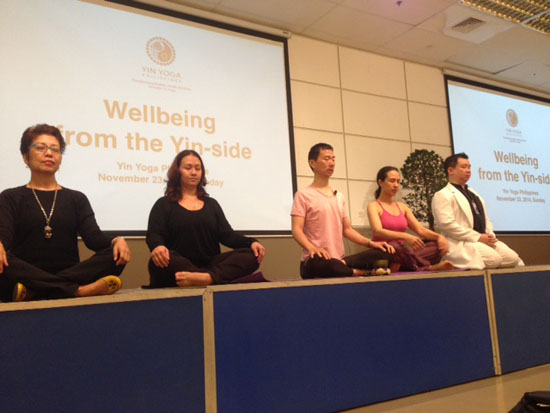 Dinah Salonga talked about "Changing from within: Developing Emotional intelligence through mindfulness" . Learning a simple mindfulness practice, for as little as 2 minutes a day for 8 weeks, can change your life.  She also tacked the  neuroscience behind mindfulness and how it reprograms the brain so we can better regulate attention and emotional response.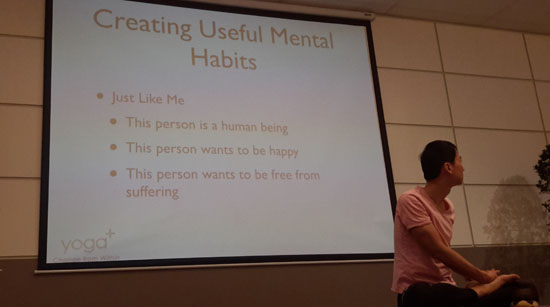 The key takeaway she told us to remember  was to create useful mental habits when dealing with people and relationships : "Just like me" and "I wish for this person to be happy".  I only wish good vibes to all my friends and loved ones, and even critics. In fact, I owe my critics for making me look deep into myself and see what needs to be improved. I wish them to be happy too.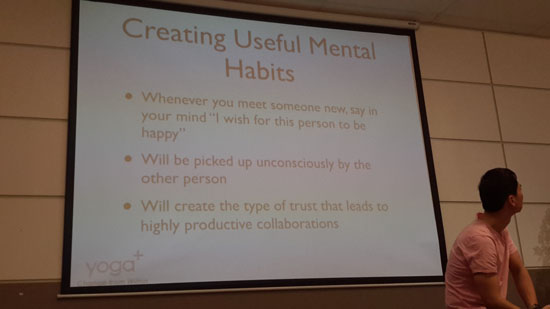 Dr Francisco Kit Navarro on " Exercise: Why we don't and What we can" talked from the perspective of Traditional Chinese Medicine and taking a holistic look at exercise and the importance of cultivating our body for health, wellbeing and quality of life.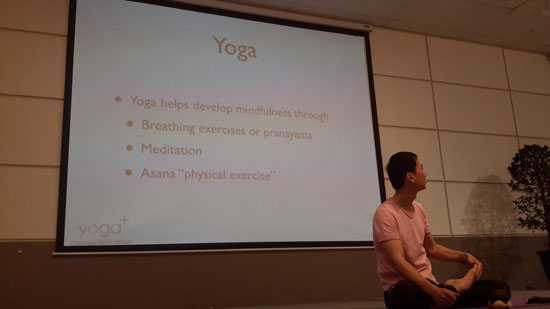 An important topic on "Women's Health Front and Center: Why Taking Care of Women is Taking Care of the Community" was tackled by Dona Tumacder-Esteban. When we examine the state of wellbeing of the family, one should take look at the health of the women who are nurturing them. This talk explored the crucial role of women in shaping community wellbeing, highlights important factors, and gives practical advice on where to start so we can shift towards a healthier community.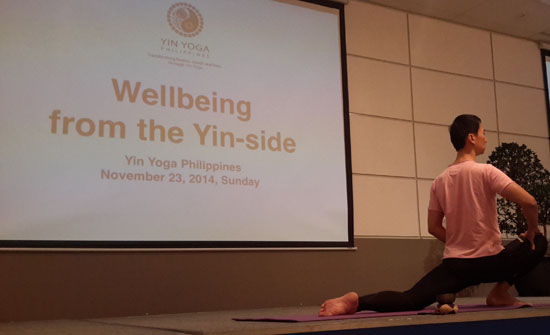 So much food for thought out there that I was raring to start the Yin Yoga session . Yin Yoga is  a quiet and simple practice, but I discovered it was not that easy because my muscles were tight. I also had issues with my knees which were injured from a fall. I really love the principles that Victor Chng explained such as the principle of grounding , holding and relaxation.
Yin yoga targets our deepest tissues of the body, our connective tissues — ligaments, joints, bones, and the deep fascia networks of the body — rather than the muscles. I constantly work on my muscles at the gym but fail to work on the connective tissues. Yin Yoga is the answer. As newbie, the yin yoga is a great introduction .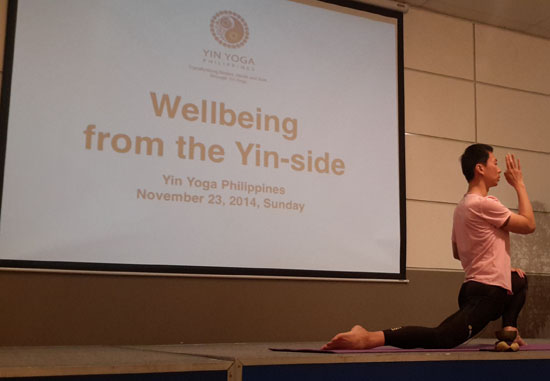 Jane was telling me that athletes join Yin Yoga as it offers deep release on many levels, strengthening and lengthening the connective tissues in the body, healthy stressing of joints, increasing range of motion, opening and clearing energy channels and  ultimately giving a feeling of ease and lightness in the body.  These were just a few of the poses that Victor demonstrated. Jane explains more on What happens in Yin Yoga?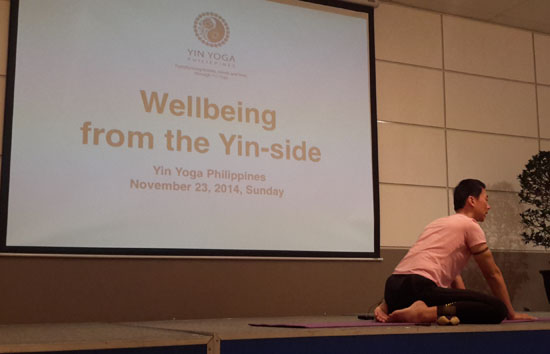 This is just my first time in yoga and I know I will get better in time, with more patience and practice. Patience is Yin, right? Yes, beginners like me can definitely start a  yoga journey with Yin Yoga.  I have been through a lot in my grief journey and a yoga journey  will be different. It will surely be  more exciting but challenging .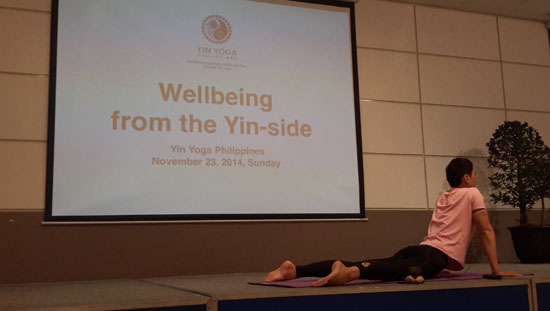 If you are interested to explore more about Yin Yoga, just contact Jane on twitter @yogajane or at her blog yoginifrommanila.com