The attire on the invite read :" Drop dead gorgeous for the ladies and metrosexual for the guys."
Bernie, my gorgeous best friend wanted to celebrate Frank's (her husband) milestone in life, as he joins the distinguished Senior Citizens' Club. My task was to make sure my husband will wear the required "metrosexual" attire.
"What is metrosexual?" , my husband asked.
I teased him, "aren't you metrosexual?" I then defined it for him:
met·ro·sex·ual

1. a young, urban, heterosexual male with liberal political views, an interest in fashion, and a refined sense of taste.
I added a hat on his head and wrapped a scarf around his burgundy shirt. "No scarf for me", he pulls it out . I teased him the men are going to wear scarves.
"Expect to dance", I reminded him, to which he did not protest.
Flashback…When I first met my ex-boyfriend that fateful night in 1978, I thought he could dance. The seventies was the discotheque (disco) era which peaked in popularity in the late 1970s. Everyone knew how to dance or …rather all my friends could dance. So, when the Beegees' music "Saturday Night Fever" played in the restaurant, Butch while seated on his chair would sway his body , raise his arms to the left and to right and just groove to the music. Impressive.
When we finally became sweethearts, I discovered he had two left feet , meekly confessing "I can't dance". It was not the end of the world. There was more to a relationship than being able to dance. I just forgot about it until yesterday night.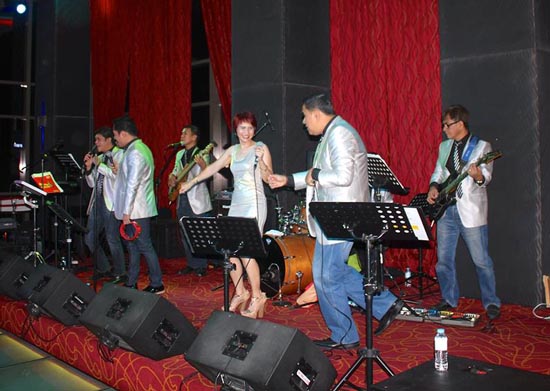 The Flintstone band at the Vue Bar in Bellavue Hotel played seventies music. The 'Saturday night fever', was playing on this glorious Saturday night. How can we not dance to this 70's decade music, best known for unleashing the disco era upon the psyche of the world?
I pulled my husband to the floor. "We have to dance this!" I thought he'd just stand there but surprise of surprise, he moved his feet side to side. Starting with three tiles on the floor, he did a step right-together. Then left-together. Amazing.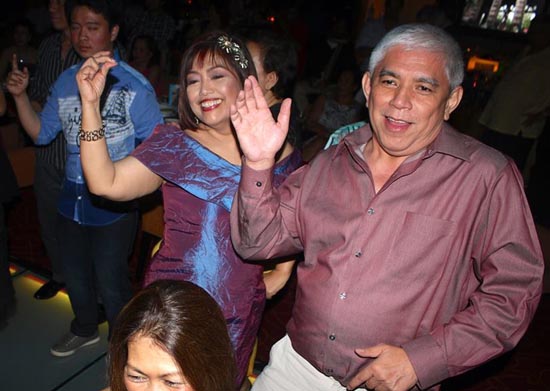 So, we danced "maski paps" (Maski Papano), swaying side to side to the beat. This time around, he was not seated as he bounced to the beat. That's what disco dancing is all about. Doing our own thing is cool. Using rhythmic consistent steps is cool. Getting loose and laid back is cool .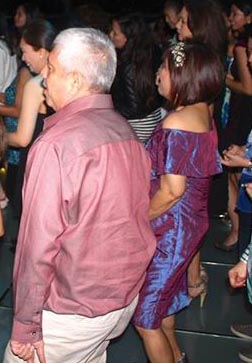 Smile. Show the attitude. Get into the groove. Anything goes. Having fun is what disco dancing is all about. Who cares if we are in our fifties? We know how to have fun even after a serious week of work.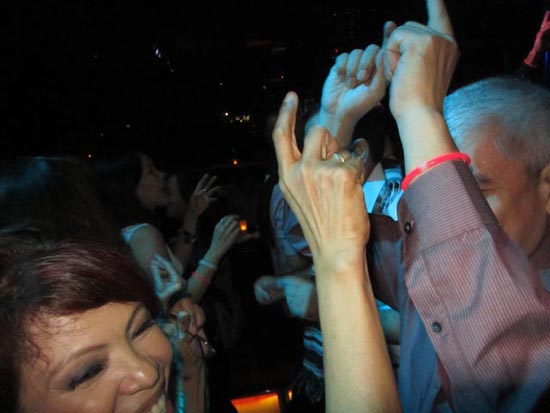 Indeed, what a Saturday night fever that was , as we rocked the night away and cheered to Frank's 60th birthday.
Photos via Bernie.