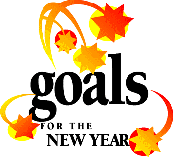 My sister in San Francisco greeted me a Happy New Year then asked me "so what are your New Year goals?". My goals are etched somewhere in the crevices of my brain but I hadn't written it down in paper. I realize now that I needed to write down my goals, as an affirmation of myself, my life, and my ability to choose. Then I let it go. New Year goals are something we need to dig within and discover what we would like to happen in our life this year. It is an affirmation that we are interested in living life in the year to come. Goals give us focus. Goals give our life direction.
So the questions evolved. What would I like to attain? Where would I like to go? What would I like to happen in my marriage and family life? I have to remember that I am not out to control others with my goals but rather giving direction to my life. So I continue on pondering. What problems would I like to be solved? What decisions would I like to make? What would I like to happen in my business?
These are my goals for 2007
1. Start the construction of our new home by February.
2. Move in to our new home before the year 2007 ends.
3. Attain my desired weight of 125 pounds.
4. Have an ever closer relationship to God.
5. Develop membership responsibilities in The Compassionate Friends.
6. Start research on "brick and mortar" business.
7. Create more high income-generating blogs or redefine my current blog niche.
8. Encourage my 2 girls to be the best they can become.
9. Be more loving to my husband . (more loving than ever, hehe)
10. Expand or promote my webhosting business to starter businesses.
11. Treat my husband and myself to a trip abroad.
I will continue to write my goals regularly as needed.
Things may happen that are not within our control. Sometimes these events are happy surprises and sometimes they are of another nature. The year 2007 looms before us like another chapter in a book just waiting to be written. We can help write that story by setting goals. We will do it not to control but to do our part in living our life.
Hey, I even had my goals published in the papers: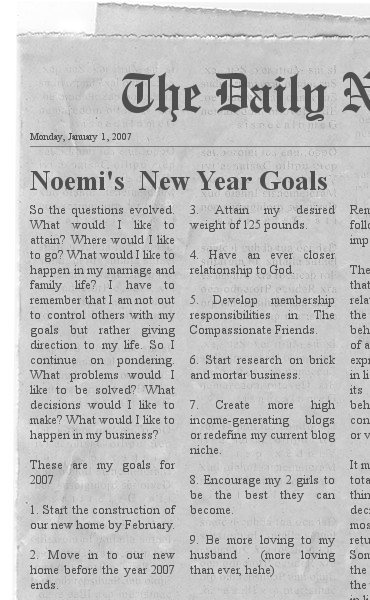 Thank you