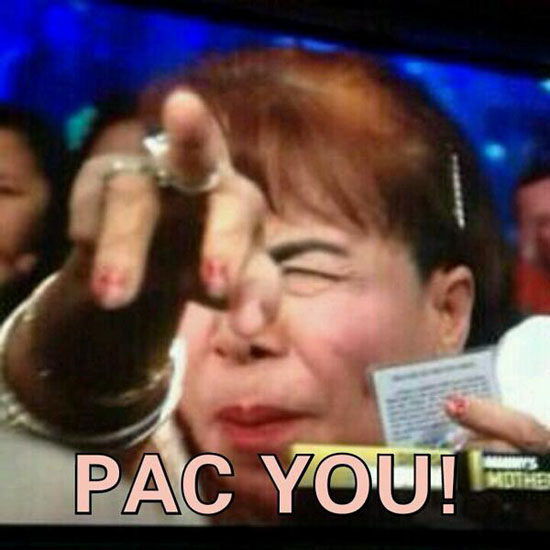 The memes are really funny. Mommy D and Kim Henares are the top winners after Manny Pacquiao won over Tim Bradley via unanimous decision. In a report from USA today, "Manny Pacquiao's mother, Dionesia Dapidran-Pacquiao, was just as entertaining as the action in the ring. As her son fought Timothy Bradley, Dapridran-Pacquaio was dealing with the stress of a prize fight as best she could. The commentators speculated that she may have been trying to put a hex on Bradley. She instantly became a Twitter sensation." Mommy D is clutching on to a rosary in her left hand while her right hand displays a dirty finger or pointing two fingers towards the ring . I think Mommy D is playing "segurista" to make sure both prayers and "kulam" will ensure a win for her son. Many comments in social media show she is the star of the night.
Meanwhile, there are a lot of social media jokes that BIR Commissioner Kim Henares is happy that more revenue will be collected from the Manny Pacquiao fight.
Here is my compilation of memes via Storify.