Hear Ye! Hear Ye! Some blogosphere news… no gossip here. 🙂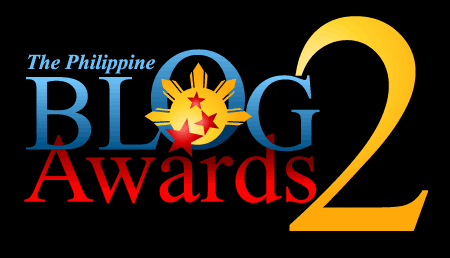 The 2008 Philippine Blog Awards is still very much alive. The committee is moving the event to July 2008 because of two things: the first is because we're still looking for an available venue that can accommodate a lot of people at a good price and second, because we're waiting for the incorporation papers. The incorporation is crucial because receipts are needed for our sponsors. Also, a new set of officers will take place because of the incorporation. Hopefully, all the legal papers will be ready by end of April. *cross fingers*

Blog Bank Ad Network Launch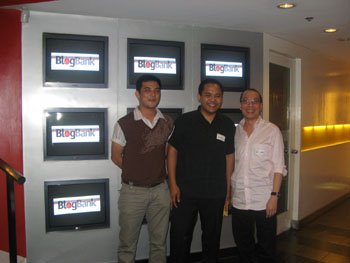 Blog Bank, a local blog ad network is finally open to the public. I did not participate in the beta testing because I am such an obsessive-compulsive freak when it comes to design. The initial ads were not pretty at all. It broke my side bars and the empty space beside the first ad just didn't appeal to me. Fortunately, the latest campaign gives more flexibility so I am using it now in most of my blogs.
What makes Blog Bank different from other ad networks? Of course there is the income generated. We can't rely on Google Adsense alone.
I am impressed with two features of Blog Bank.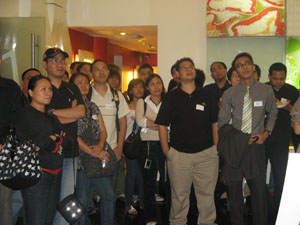 1. Remember how Google adsense just give us cents when we have low traffic. For new blogs, it takes forever to reach $100.00 Well, with Blog Bank, you get some perks if you don't make the cut for the initial check payment of 2,000 pesos.
The reality is that there are a lot of great blogs with passionate writers that want to earn but don't. This is why we've also introduced the Blog Bank Blog Donor Card: an exclusive membership card for Blog Bank publishers that entitles them to monthly discounts and perks. The first perk that we introduced was courtesy of our Red Box host, Mr. Paolo del Rosario – our pioneer publishers were given Red Box VIP cards that entitles them to a huge discount for food and drinks as well as a free Karaoke party during their birthday month!
2. I like the personal touch of actually meeting the advertisers. During the launch, I got to meet the men and women behind eLBC Express Regalo and Digiprint, Delifrance's Spiked After 5 campaign, and Nokia Philippines with their Soul of the Night Wireless Adventure II.
The Blog Bank is all about community. We've observed that blogging in the Philippines definitely isn't an island so we will be orchestrating wacky community events for Blog Donor Card holders every month, also as a way to communicate our monthly giveaways to the publishers. For publishers outside Metro Manila, do not fret! We're working on ways to reach out as well.
What are you waiting for? Sign up with Blog Bank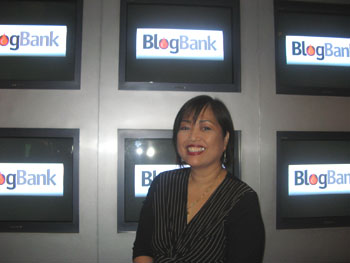 In other New Media events
Fantastic Candy Creations by Jelly Belly Jelly Beans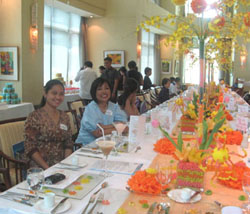 Spiked Coffee during Delifrance Bloggers' Night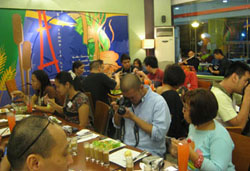 Business and Trade Visitors will go to the Food & Hotel Asia 2008 at the Singapore Expo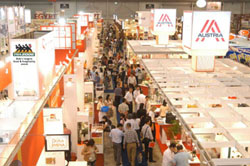 Faces of Youth Entrepreneurship by the First Year High School students of Multiple Intelligence High School located at the Elizabeth Hall, Katipunan Avenue. ( I will write more on multiple intelligence in my next entry)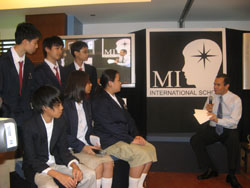 Bloggers singing at the Red Box during the Blog Bank Launch

A one-on-one interview with Iris Josef, Community Innovation vice-president and my Two Serendra blog.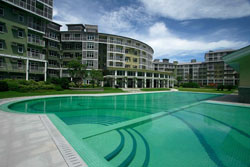 Met "Luli" Arroyo at the launch of Aloha Boardsports. All I can say is Luli is nice.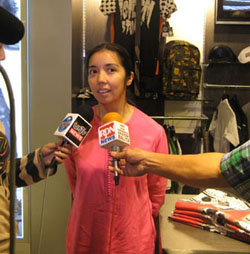 If you are a regular reader, add me in Facebook so I can contact you for blog events or if you are not subscribed to this blog, SUBSCRIBE TODAY.
Upcoming Events
March 28– Awarding of the Winners for WikiPilipinas Filipina Writing Contest is on March 28 at 11:00 AM, SMX Convention Hall # 3. More details here.
April 26 – Iblog 4 at Malcolm Theater, College of Law, in UP Diliman, Quezon City
April ? ( no date set) – Photography workshop through Blog and Soul Movement