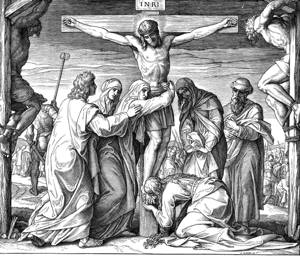 Every Good Friday was just like any other day for me. The streets are empty. Everything is still. At 3:00 PM, I'd bow my head in prayer and reflect on Jesus' death. That is before the death of my son. I never knew what it felt to be the mother of Jesus, losing a son until of course, I lost my precious son 8 years ago. Even if Mother Mary knew that Jesus died to save us, she was just as inconsolable as any mother who lost a child. My son was "clinically dead" when I got to him and I did not see him suffer. Not that I am diminishing my own pain but I bet Mother Mary suffered one thousand times more than I did for every nail and insult given to her beloved son.
How does this pain feel? Imagine…
When I first become a mother, I experienced powerful feelings of protection. I realized I would do anything to keep my children safe from harm. They become my highest priority, the center of my new identity. My life radically changed; I gave up sleep, energy, privacy, free time. Being a mother expanded my sense of who I am, and I developed into a new person. I discovered strengths and skills I never knew I possessed: patience, empathy, attunement with another human being who is totally vulnerable. I accepted new and wide responsibilities, I looked and planned much further ahead, I put my child's needs ahead of my own, I adapt to my child's time-frame; I transformed into a sort of nurse, teacher, handyman, referee and so many other things too.
Mothers may also find out uncomfortable things we did not know before. But we change – and we change for always. We have a powerful desire to erect a 'bright canopy' over our child, to make their life as perfect as we can, to keep them safe against all harm.
It is this 'bright canopy' which is torn apart when our child dies. We lose a part of ourselves, not only because they are our children, but because of the way they have become entwined with our own identity. Our inner world is torn, as well as our outer world. We may experience an overwhelming sense of failure; we thought that we could keep them safe, protect them, and we have been shown in the harshest way possible that we were wrong. Whatever age our child is when they die, we still feel the wrongness of their death. The natural order of the universe is that parents die before their children; anything else is against nature, an accident, a catastrophe.
So as Mother Mary gazed up to see her son dying in agony on the Cross of Calvary, Jesus looked down and said to her, "Dear woman, here is your son." Jesus indicated that his disciple, John, would take care of her from now on. A short time later, after Jesus bowed his head and gave up his spirit, a Roman soldier came by and pierced Jesus' side with a spear, just to make sure he was dead.
How cruel!
Doesn't every good mother feel their child's pain?
You know they do.
But there is more to this pain and sorrow . . . more than loss and grief.
And though Mary, his mother, felt the sword pierce her own soul as she watched him dying on the cross, that pain would later be replaced by unbelievable joy and jubilation as her Son arose three days later, in the victory of Easter.
Through the pain and tears of the cross, the Hope of all Humanity had triumphed over sin and death.
In a very real sense then, our salvation — and the promise of new life in Christ — is born in pain.
I have reached a point, where life is good again. I know I will meet my precious son, my Luijoe when my time comes.
Those of us who believe in Jesus Christ, in His love and His promise of salvation, are the children of God.
And God says, "As a mother comforts her child, so will I comfort you."
So no matter what we may be facing today or in the days to come, let us trust in the Lord — the One whose love for us surpasses even that of a mother for a child.
Amen.