*Cringe*. I am sure some of you are not too comfortable about the topic especially with our children. But….Let's not be in denial.
Parents need to wake up to reality.
32% of the youth aged 15-24 engage in sex and 78% of this is unprotected sex, according to DRRP and UP study.
Data from YAFS 4 indicate that 32 percent of young Filipinos between the ages of 15 to 24 have had sex before marriage. This shows a significant increase from 17.8 percent in 1994 and 23.2 percent in 2002. By age groups, more of those in the 20-24 age group had sex before marriage (54 percent) than those aged 15-19 (17 percent).

The highest premarital sex prevalence were found in the National Capital Region (NCR), (40.9 percent), and Central Luzon (39.1 percent) while the lowest was in the Autonomous Region of Muslim Mindanao (ARMM), (7.7 percent).
Beth Angsioco, reminds us "Let us not forget that per the respondents' profile, more than 70 percent of them are Catholics. Yet, the Catholic hierarchy and its allies are blocking the implementation of the RH law, the law that can help young people responsibly manage their sexual lives."
Just before I had kids , a friend told me that her daughter was only 18 years old when she got pregnant. This happened during their first date. She expressed regret that she should have never assumed that her girl will never have sex before marriage. She says she should have lectured her girl about protection. My friend's story left such an imprint on my mind that I resolved to teach my girls all I can about sex education when the appropriate time came. I knew I could not leave it to the school to teach them about it.
Let's see…
What is happening to our sex education?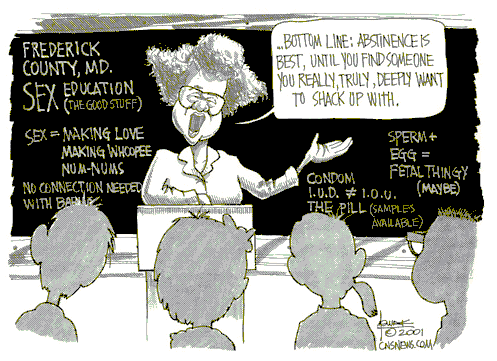 With the Reproductive Health Law still in TRO, sex education is left hanging in public schools. It is optional though when the law is in effect. Let's look at this statement from Dr. Angelita Aguirre, head of Human Life International. (CBCP: Scrap sex lessons)
""The module should be scrapped. It does not have the emotional, psychological and spiritual dimensions of human sexuality. This is very important,"

""The code of morality is high. We are not pagans. We would like to pressure everybody indulging in a conjugal act to get married first," she said.

Aguirre pointed out that the modules did not mention that a person had to get married before having sex.
Saying NO is easy for some kids but not everyone has a strong will. Sex Education goes beyond just saying "NO" .
As a concerned parent of two girls, I took an active role in teaching the basics of sex education even if their Catholic high school included a bit of sex education in their curriculum. Much as I want my two girls to get married first before having sex, this kind of sex education strategy (get married before having sex) does not make sense to teens these days. First of all, some Catholic schools instill fear of committing mortal sin even on sexual feelings. Why can't they explain about raging hormones instead of judging their feelings? It's a confusing time for teenagers. Most often, these high school girls turn to their girl classmates for relationships. How many girl-girl relationships are occuring in all girl schools? Often, the school turns a blind eye because these relationships won't induce pregnancy. Secondly, our teens are exposed to sexual images in magazines, TV, movies and the internet.
The issue of morality can be taught separately from sex education. Morality is taught in the Christian Living Education or its equivalent like Values Education.
God has a strong view of any kind of immorality, so we should try to err on the side of purity. For example, the apostle Paul said that the Church will be presented to Christ as a pure virgin bride:

"I am jealous for you with a godly jealousy. I promised you to one husband, to Christ, so that I might present you as a pure virgin to him." (2 Corinthians 11:2)
My mother discussed sex openly with me when I was 15 years old. I knew the morality issue already and formed my own beliefs at that age. Mom didn't have to go through the graphic details but what struck me was the responsibility of the sexual act. In the same manner, I discussed sex education with my two girls as "are you ready to have children?"
When they blurted "NO WAY", I added "Then you should abstain until you are ready". My own definition of "readiness" is when one is married but I didn't want to explicitly state that fact yet.
I continued "Don't even believe your boyfriend when he says he has protection".
They giggled. I gave a clear example of a family friend who got pregnant at the age of 18 because she thought she wouldn't get pregnant at that age. Besides it was her first time.
Then I continued "just one tiny drop contains millions of sperm to impregnate you. It takes only 1 sperm cell, mind you!"
Then I proceeded to explain how the second daughter and Luijoe were conceived …and…
"ewww. I dont want to listen now"
I explained condoms, birth control etc are not fool proof methods of birth control.
We need to teach them responsible parenthood together with the sex education. We don't need to teach everything but at least give them the basic facts. Along the way, the children can do some more research on their own.
Phillipine Catholic Bishops Oppose Sex-Ed in Schools, Say it Should be Left to Parents is true if all parents know how to discuss sex with their children. We can't assume parents know how to discuss sex openly. Some might be uneducated to understand the anatomy of reproduction and thus fail to grasp natural birth control methods.
The schools together with the parents can bridge the gap of sex education.
If you are a parent, are you ready to tackle the topic of sex education with your children?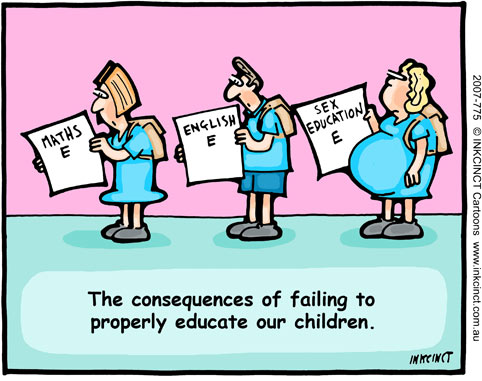 Photo source: voicesofyouth.wordpress.com
(This was originally written on July 2006 )