(RCBC Updates / Last Rites on Victims below the Videos)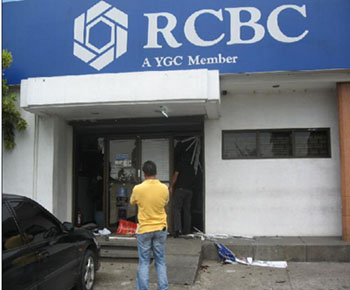 Butch first told me about the RCBC bank robbery as his company is somehow related to RCBC. In his entry on A Season of Violence and Death, my husband writes:
The killers' calculus was simple and chilling: No witnesses, lesser chances of getting caught. And so they went about their grisly business, systematically slaughtering ten people, whose grim fate was sealed the moment the butchers stepped into the bank .
The brutality and utter disregard for human life is so unusual and disturbing that it was the topic that my friends and I talked about yesterday just before our support group meeting of the Compassionate Friends. A friend (who is a banker herself) knew the bank manager, the spouse of her officemate. I just find it eerie to hear the last few minutes of their life together. Horrified, we started to discuss the incongruity of it all:
Read More »RCBC Cabuyao Bank Robbery Victims and Their Families