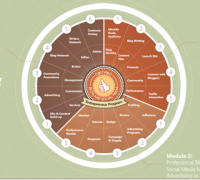 I am excited about 2014 for the possible opportunities that will come my way.  The start of the new year offers a wonderful opportunity for me to reflect on 2013 and to set goals for the months ahead. I took concrete steps on the direction of this blog ever since I started in 2006.   Yesterday, I blogged about "Speaking and Consulting" as possible income opportunities.   It is another business model to sustain my advocacy in using social media for social good. Sure, I will still get ads, sponsorship, create content and collaborate with projects but I want to diversify. I am in control of my blog and I know I need to take risks to reach my goals.
I believe bloggers can generate revenue by being a blog and social media entrepreneur. There are many benefits of being one.  Some of the things you can do is creating and sharing relevant content; building and managing online communities (managing a forum or Facebook page) ; becoming a digital advocate or influencer; starting a blog movement or communities of like-minded people; building a blog network; creating a win-win social media campaign; helping out with the online presence of NGOs; and building social media presence for people or businesses.
Readers often ask me tips on how to tap the potential of their blogs and social media network. The question on their minds is "How?"
While I would like to sit down with them, I believe I won't be able to deliver all the tips in one day. You can also do it by trial and error like I did but it will take years to acquire those skills.  If you want to fast track your blogging direction, the best recourse is to acquire the skills and knowledge from resource speakers who walk the talk, and are subject matter experts.
I came across, the Ateneo – DigitalFilipino Digital Entrepreneurship Program called,  Blog & Social Media Entrepreneur Course "with the aim of creating a movement – to encourage the growth of online entrepreneurship and serve the growing needs of businesses locally and internationally."  Janette Toral partnered with Ateneo De Manila University and eLearning Edge to offer this program which started in 2010 , to support her advocacy in developing more "blog and social media entrepreneurs" in the country.  They combine online course access, hands-on activities, and consultations via webinar. See the modules in the infographic below: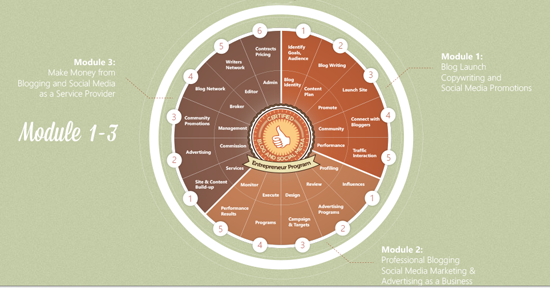 One advantage of this intensive 14 – week online mentorship program is one can learn at any time of day and from anywhere as long as one has internet access. How convenient!
Another advantage is this program is different from similar courses in the market because it goes beyond the creation of a project plan. The one-on-one consultation plays an important role during this stage as well where Janette Toral also collaborates, if necessary, to help carry out a participant's project.
What makes the program unique in comparison to other programs available is it required completion of a live project per module. As a result, by the time a student finishes the program, they have three projects in their portfolio.
Want to increase your income for 2014?  Grab the opportunity.  Consider being a Certified Blog and Social Media Enterpreneur.  Ideal students for this program are those who aspire to establish their own "personality" brand. They will be able to use the skills and experiences learned in doing the same for others – person, product, service, company and advocacy.
Investment for the program is only P25,000.00. It may look big at first but can be easily recovered by an entrepreneur on their first two projects.  The online class starts on January 25, 2014. Contact Janette Toral (@digitalfilipino) on Twitter or send a private message on facebook.