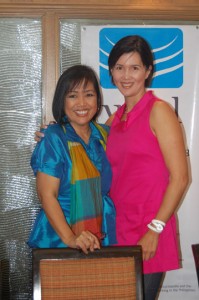 "I can't believe Tita Pia is now Senator Pia", my two daughters exclaimed in awe after we told them that she had won the senatorial race in 2004. My girls knew their Tita Pia and played with her toddlers way back the time my husband and her then husband started a law office in the mid 90's. Pia was there to hold my hand during the wake of my son who took time to talk to me, who took the trouble to order me a grief recovery book from the states. There are not many who know how to console a bereaved but like her brother Alan (who was there with me by the hospital bed with Luijoe), she truly showed compassion and sincerity.
When Pia won in 2004, I knew she was going to accomplish a lot. Even if she trailed in the surveys at the start of the campaign, I was confident she'd top it and she did. Health is her advocacy . I asked her "what motivated you to focus on Health?"
I am a lawyer as a profession . I believed no matter the training, emotions and background dictate the path. I talked about the loss of my son and my father due to severe illnesses. I was thankful we had the means to keep them happy and healthy. I was mindful of the fact of the work that my dad had done. There was much to be done. When I ran in 2004, I ran in the campaign of health. I lost my father and my son in my speech. Advisers told me to change my speech. I have nothing else to talk about. I talk about my background. I am a lawyer. I graduated with honors. That is where my competence and qualification come in. What is my passion? What do I have to offer? I want to do something with health care. I still talk that way.