I admire my husband, the father of my three beautiful children.  He loved taking care of our babies whenever he had the time. See, he was a law student for our first two babies. We both shared equal time in taking care of  them.  I share these heartwarming stories to my children about their dad who was very much a part of their development. Wasn't it just yesterday that he held them in their arms?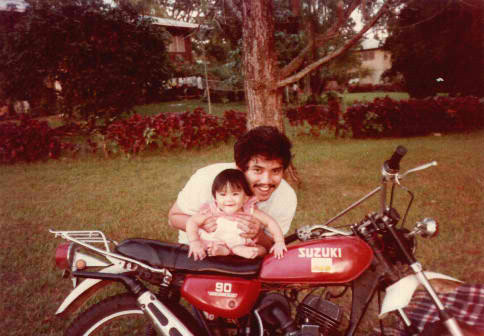 It warmed my heart seeing my husband prance around the house with our babies cradled in his arms, rocking them to sleep in a playful, rhythmic fashion, or burping them after milk feeding. I am proud to say that even as first-time dad, he knew how to amuse our babies and, even changing diapers. He could do almost anything moms can do except breastfeeding and taking them a bath. He would have wanted to breast-feed if he could. Daddies are luckier or should I say more blessed these days. The internet is bursting with so much tips on taking care of a child. Sites like Pampers cover every aspect of taking care of babies and stages of their development.  More and more daddies are involved with their children's development because of the availability of information at the tips of their hands.
Daddies are never left behind when it comes to participation of fun activities. Pampers Philippines Facebook started a trivia month with exciting prizes such as special Daddy-baby prize (photo session) and special toys that strengthen the bond of daddy and baby. I am pretty sure, daddies can do some research at the Pampers website to get the clues for the trivia questions.
Playing trivia is a fun and educational way to know more about our babies, their development and  the importance of family bonding moments. This is not just  about daddies. Learning about child development is for our babies. These are many ways that daddies can become a part of baby's life.  It was my husband's idea to read to our babies even if they were just months old.   My children's lifelong love for reading is because of their dad . His ideas on child development were based   on his childhood memories but new parenting ideas came in with the shift of shared parenting.  Dads learn the essentials of child development not for his stock knowledge but to nurture a healthy child.  It is one reason I ordered child development books abroad because we wanted to learn what was best for our family. Our child's healthy development depends on our ability to provide a safe and loving environment.  The children with a sound family background and who belong to a family with strong family ties are almost always happier. The importance of family life cannot be denied.
There is so much to explore and learn more with baby. Visit the Pampers Philippines Facebook page now!
This is a sponsored post for Pampers Trivia but all opinions on this entry are entirely my own.