In the corner of my room, lies a chest full of photo albums. Feeling sentimental over the celebration of our 26th wedding anniversary on the first week of May, I decided to unearth the baby albums of my three children.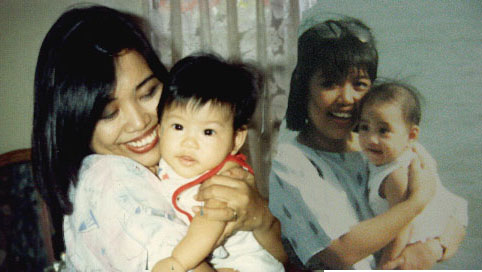 The years passed by so quickly but these photos brings back precious memories of those impish smiles, the snuggle hugs, the peek-a-boo moments and plane trips to Cebu to visit my dad. I cannot help but smile and tear at the same time as I catch a photo where I held their soft body close to my chest. The best part is when my babies want no one else to comfort them but their mommy. Oh yes, I had the best job of all because I am their mommy. And we all know how it feels to just want Mommy and no one else will do. Yes, that is me, their mommy.
A favorite place that offered a lot of fun and comfort was the park . They could frolic and run around without being afraid of getting hurt when they trip. Oh, how they twirled and romped around here, screaming at the top of their voices. The best part of being a mom is hearing ""I love you" which came along with a bunch of wild flowers from the park. These treasured memories are always in my heart..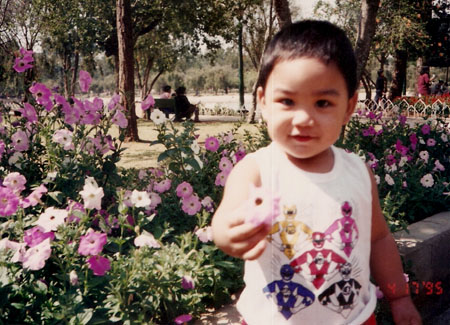 The park is quite a distance from the house and I didn't want these precious moments interrupted. I made sure I used the best protection from Pampers Active Baby. I only want to give my little ones the best comfort outside of their usual home routine so they can continue playing without interruption. I know they are happy because the greatest sounds on earth ring in the air. Those giggles captured by these photographs bring me down to memory lane. These memories also affirm my role as a mother . The best part of being a mom is that my children brought out the best in me just by learning about unconditional love from them. I learned love I never could have imagined, patience I didn't know I had, and strength when I didn't think I could take it any longer.
Through their growing years, I watched my children bloom and at times stumble. I held their hands and let go when the time was right. I helped them find their passions in life. Truly, I am blessed to give and receive love…just because I am their mommy.
Today, Pampers salutes moms this Mother's day with a video celebrating the uninterrupted moments of love. Hundreds of Moms shared photos and videos of their Best Fun and Play Moments, Best Giggles and Laughter Moments, Best Sleep and Dreams Moments, and Best Hugs and Kisses Moments. The chosen photos and videos have been picked and featured in the Mother's Day Video which will be aired on TV and will also win prizes from Pampers.
Mothers around the world are celebrating in their own way. You can also celebrate Mother's Day with Pampers by watching the special tribute video featuring Filipino Moms and Babies. Visit www.facebook.com/pampersph to watch the video today .
What a joy-filled place we have as mommies. Happy Mother's day Everyone!