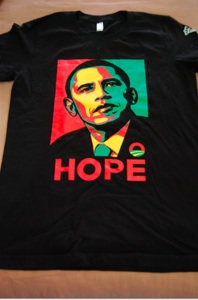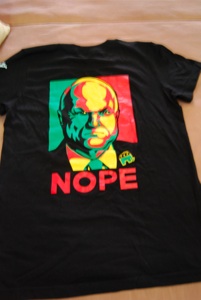 Lauren arrived from San Francisco early yesterday morning. She left about the time that Barack Obama was unofficially announced as the elected
44th President of the United States
. Naturally, she brought along an Obama souvenir tshirt which says "
HOPE
" with a hopeful-looking Obama at the front and "
Nope
" printed at the back with a frowning McCain. I could have worn it but the sleeves make me look fat in it.
The logo tells it all that there is "HOPE". Expectations are high around the world as well, as political leaders look to Obama to help forge a new ""era of renewed partnership and a new multilateralism", in the words of U.N. Secretary General Ban Ki-Moon. France's Nicolas Sarkozy said that Obama's election had raised ""enormous hope". President-elect will be expected to deliver on his campaign promise to bring about change almost immediately, and if he stumbles, will be set upon mercilessly not only by his conservative foes but also those who pinned such high hopes on him.
Such high hopes for Obama.
While everyone else in the world is hoping for the changes promised by Obama, I continue to have hope for the Philippines. It is my Mother's Hope that our country will change for the better. I have hopes that our future politicians will do their jobs and "walk the talk".
I know some of you may think that our country is hopeless and even as a mother, we can feel helpless at times. It can be disheartening. I am not helpless. We are not really helpless. I can solve most of my problems. I have the power to solve the problems that is mine to solve. In my own little way, I contribute to the society through my children. Self-reliance begins in our homes. I hope to instill self-reliance in my children even if they have to inherit this crappy economy.
As Obama himself said in his acceptance speech,
This victory alone is not the change we seek. It is only the chance for us to make that change….

I believe that, as hard as it will be, the change we need is coming, because I've seen it, because I've lived it.


Part 2 | Part 3
"NOPE" to negativity. Let's translate the Hope of Obama in our lives. Let's hope that The Hope of Obama inspires our 2010 Presidential candidates. Let's dare to hope for the best.