Mom's the Word, a feature from Mom Works in the Lifestyle Channel touched on how I turned around my grief, co-founded The Compassionate Friends (support group after a death of a child) in December 2005 together with my dear friends, Cathy Babao-Guballa and Alma Miclat. The feature also shows how I started this blog on February 2006.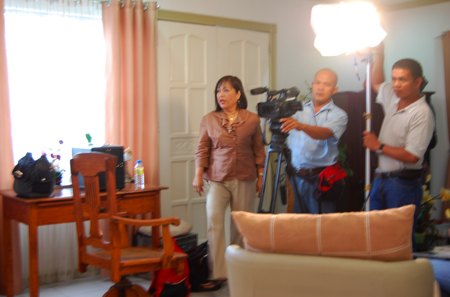 Taping was done on September 23, a day before I left for a vacation to the USA
Mom Works is probably one of the best edited feature they ever did on me, next to another feature, Mom Bloggers (with Cathy and Annamanila) in July 2007. Yet, there was one minor mistake. They forgot to mention that Cathy Babao-Guballa and Alma Miclat are my co-founders in The Compassionate Friends. Without them, the support group would not have been possible. In December 2005, I lacked the confidence in organizing events or even talk to bereaved parents. I was a terribly shy person, perhaps because I had wallowed in misery for too long, and away from the public eye.
I would also like to correct the misconception that I used my son to ignite hits for my blog. While true that my son is part of this blog, he has his own website at angel-luijoe.net since June 2000. It continues to comfort others in similar losses. Luijoe's memorial site brings in visitors that write to me privately.
I don't need hits for the sustainability of my blog. Grief recovery contains unique and original content which explains why it gets traffic. Whether my blog is successful or not, I prefer my son to be alive and to be with me right now than to have this blog.
The reality is, Luijoe is gone and moping is not the best option. Misery is neither an option. What I can do is to make my life better and let Luijoe live on by reaching out to others through this blog, through my work, through my advocacies. So for better or for worse, I will continue to focus on my blog's and life's goals.
By staying focused on what is more important to me, it will seem that Luijoe never left me. He continues to be alive. He lives on in my work.
If you had the choice in any kind of pain or loss, would you want to be bitter or better?
12th World Wide Candle lighting on December 14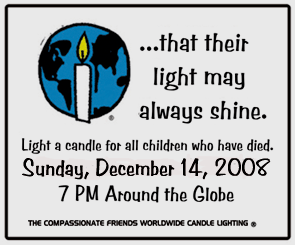 Where: University of the Philippines Institute for Small Scale Industries
E. Virata Hall, E. Jacinto St.
UP Diliman Campus
Diliman, Quezon City
Date: Sunday , December 14, 2008
Time: 5:00 to 8:00 PM
As I lit my candle tonight, the sky cleared and your star was shining down.
This simple message was just one of the thousands left in the national website Remembrance Book during last year's Compassionate Friends Worldwide Candle Lighting.
Another person wrote, everyday is hard without your child, but the Holidays are so hard. When we light our candles we can just see our children looking down at the millions of candles being lit around the world.
When a family has experienced the death of a child, for many the year would not be complete without a remembrance service that honors the memory of that child. TCF's gift to the bereavement community, the Worldwide Candle Lighting, this year December 14th, offers that opportunity.
This is the 12th annual event which is held the second Sunday in December at 7 p.m. Candles stay lighted for one hour in each time zone around the world creating a virtual 24-hour wave of light. Candles are lit at 7 p.m. local time, hundreds of thousands of persons commemorate and honor children in a way that transcends all ethnic, cultural, religious, and political boundaries.
Believed to be the largest mass candle lighting on the globe, the Worldwide Candle Lighting creates a virtual 24-hour wave of light as it moves from time zone to time zone. Hundreds of formal candle lighting events are held and thousands of informal candle lightings are conducted in homes as families gather in quiet remembrance of children who have died, but will never be forgotten.
The Worldwide Candle Lighting started in the United States in 1997 as a small Internet observance but has since swelled in numbers as word has spread throughout the world of the remembrance.
The 2007 Worldwide Candle Lighting saw information on services received from 21 countries outside the United States.
Please help spread the word about this tremendous event and invite anyone who is unable to attend a service to light a candle at 7 p.m. for one hour wherever they may be.