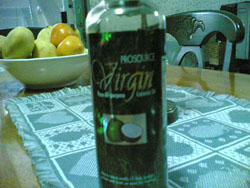 I just came from the gym with my second daughter. It's been part of my routine to include a 15 minute sauna after my workout. In the sauna, I rub my scalp with virgin coconut oil. That's hot oil treatment for free. You know how expensive these fitness gyms can be so why not take advantage of the heat. See, my hair is thinning out and maybe the coconut oil can stimulate my scalp to grow thicker hair. Blame it on old age.
The one I use is that brand on the photo. I bought this at Mercury drugstore because I noticed that this particular coconut oil used cold press method. When I bought it, the liquid inside was milky white so I was a bit suspicious. I totally forgot that coconut oil gets affected with the room temperature.
My husband drinks 6 tablespoons a day.He's not complaining of the taste because the health benefits are a lot. If it can help AIDS victims, then coconut oil must indeed be therapeutic.
"Initial trials have confirmed that coconut oil does have an anti-viral effect and can beneficially reduce the viral load of HIV patients", says Dr. Conrato S. Dayrit, Emeritus Professor of Pharmacology, University of the Philippines.
The entire study of Dr. Dayrit's study can be found here.
I don't know but I find the idea of ingesting coconut oil quite unpalatable. I might try it out some day but for now, it's being used for my scalp.