Now that my 10 week [tag]weight management[/tag] program is over, I reflect with a slight disppointment over my [tag]weight loss[/tag]. I expected to lose more than 10 pounds in that 10 week period. I guess my age and the Holidays made it extremely difficult to follow the weight management regimen. I lost a total of 9 pounds. I should be happy but not really. That 9 pounds was my weight gain I needed to lose anyway. I still want to lose 15 more pounds to attain my ideal body mass index. Don't get me wrong.
The expense of shelving out 7,700 pesos was not wasted. Today, I am able to exercise longer with greater stamina reaching 300 calories an hour unlike before where I only burned 100 calories an hour. Talk about quality exercise this time. That entailed 30 minutes of cycling and 30 minutes of treadmill with a 4.0 gradient and a speed of 5.5 . Even if I am not happy with my weight loss, I am pleased with the exercise benefits. More endorphins makes a happy me. While contemplating the renewal of my contract with Fitness First weight management, I caught sight of the colorful Del Monte Booth by the gym lobby.
Looking closely at the brochure, I became excited.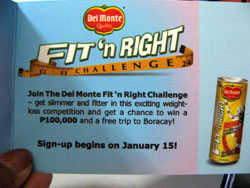 The brochure screamed " Do you want to lose weight and get the BODY you've always wanted. I continued on flicking the pages of the brochure of Del Monte's Fit 'N Right Challenge …

The mechanics said:
1. Open to all Fitness First Members.
2. Sign up period is from January 15-31 at any Fitness First gym in Metro Manila.
3. Training and nutrition programs will be released January 30-31.
4. Branch eliminations will be throughout the month of February.
5. At the end of February only the challenger in each Fitness First branch with the most weight loss goes to the Fit N' Right Challenge Finals in March.
6. Each of the Finaly challengers will be paired with a personal trainer and a personal nutritionist.
7. Final challengers will also get free nutritionist-recommended meals delivered meals.
8. By the end of March, a grand weigh-in will be done in Boracay to determine the winners.
The Del Monte person approached me and explained the competition. He said I could win 100,000 pesos . But that was not what caught my attention. It was the free training and nutrition program that came with joining. I signed up right away. My gym buddies hovering nearby signed up as well. Joining a weight loss competition might be another way to overcome the monotony of losing weight. It's the excitement and the challenge that goes with it. The encouragement of gym buddies might even be a motivating factor to continue on.
I don't need to enroll just yet on the weight management program while this weight loss competition is in process. I'm going to have fun and encourage my gym buddies to win with me.
I am amazed how Del Monte's latest promotional gimmick hits it right on their target niche. Their latest product is a weight loss drink called the Del Monte Fit 'N Drink Juice drink. They claim it's a fat burner and Energy Booster. It has L-Carnitine, a natural substance that helps burn the very thing we want to lose: FAT. The B vitamins 1, 6 and 12 speeds up our metabolism , breaking those fats and carbs and turning it into energy. The best part of the competition is that packs of this new product will be delivered to our home during the month of February. Let's see if it gives me the extra boost to stay on the bike a bit longer, run an extra kilometer or two on the treadmill and even have stamina for that Body Jam class.