Christmas stockings is a cherished tradition? What do you put inside the stockings?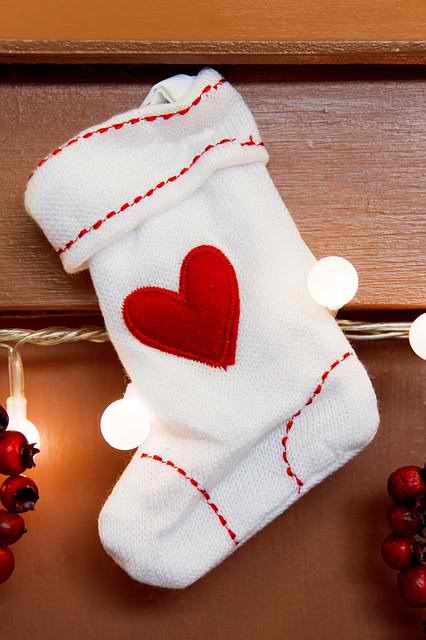 There's an old Merry Melodies cartoon my sisters and I loved watching when we were kids. It's a story of seven kids and how they can't for Christmas morning. Santa Claus drops by on Christmas Eve, filling their living room with toys as they sleep. One scene that stands out a lot for me is when Santa stuffs one of the children's old socks with a toy, then adds one more toy, and another, until the whole ratty sock is practically bursting with playful trinkets. Santa would then give off his hearty laugh and off he'd go to the next stocking. I love that scene because of all the possibilities that can fill a little old sock. If this happened in real life, one can imagine the joy a little boy would have as he digs out toy after toy on Christmas morning. Who knew how much magic digging through an old sock could bring?
Perhaps that's one of the reasons why hanging stockings up for Christmas is a cherished tradition. A stocking can't fill much, so what surprises can one find the next morning? Will the toy train one requested for fit into that sock (and if so, how did Santa manage do that!)? Will the stocking be filled with wondrous delights, from sugary treats to savory indulgences? How generous can you be with such limited stocking space? That is the stocking stuffer's challenge. It's easy to stuff stockings. What's difficult is not knowing when to stop!
A little boy would surely go nuts over a stocking filled with his favourite toys. Stuff his stocking with action figures from his favourite movie or cartoon. The more complete the set, the better! If the little boy is into cars, stuff his stocking with as many Matchbox cars as you can. He'll surely spend Christmas morning racing around the living room with a smile plastered on his face. For boys who are into creepy crawlies, rubber insects and animals are sold in toy stores. Fill his stocking to the brim with these creatures.
A little girl on the other hand may delight in a stocking full of accessories. Bracelets and headbands and ribbons, oh my! If she's into Barbie dolls, why not fill her stocking with new clothes for Barbie? Don't forget the matching shoes!
But who says only kids can enjoy super stuffed stockings? Grown-ups can also find fun in these packaged surprises. For the foodie grown-up, fill her stocking with savory snacks she can take with her everywhere she goes! Biscuits, crackers and cookies would surely delight. For coffee lovers, a stash of their favourite coffee mixes, beans and maybe even a mug (if it fits!) can be jammed into a stocking. Have bookworms in the family? Jam as many books as you can into a stocking. Bookmarks and book lights can also join in the fun. The travel lover may enjoy a stocking stuffed with trail mix, anti-bacterial gel, even a small, folding umbrella for those sudden downpours. Nature-loving friends will enjoy stockings filled with packs of seeds, perhaps a gardening tool set with matching gloves too. Interests as themes for stocking stuffers is a fun and easy way to begin the thought process for when you want to fill someone's stocking but don't know where to start!
What if you're a little scrimped for cash? Can you still fill up someone else's stocking? Definitely. A coupon-filled stocking is one way to go! Create coupons for a free massage' or a free drive to the mall' and pile up these coupons into your loved one's stocking. This stocking of favors will surely come in handy for them and they'd be much appreciated. How about a stocking full of promises? Grab a bunch of calling-card sized board paper and write a promise on each one to. It could be something silly like ""I promise to wear the polka-dot tie you gave me whenever you ask me to" or something grand ""I promise to take you to Manila Ocean Park." Don't forget to follow through on those promises!
Socks and stockings may look like they can't hold much, and that's precisely why stuffing them is so much fun. How far can a loved one's stocking stretch with your generosity? Why not go and find out!
This is by Toni Tiu, a repost from Philippine Online Chronicles .