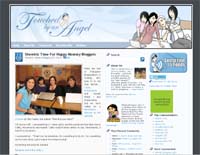 I never planned to upgrade today. I didn't know it yet but until I searched the archives for my last theme update , what did I discover? Lo and Behold! It is exactly a year ago. How come it took me that long? I usually change my theme every 6 months. I must have loved the old theme so much.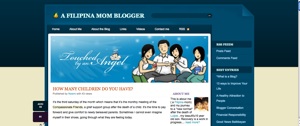 Today, I present a spanking brand new theme which illustrates my family's bonding experience,Eating and our lives as food bloggers. One of my biggest peeve is junk food. I don't know why my husband often adds them in his grocery list when I tell him that junk food is full of salt. He loves to indulge the children with Pringles or chocolate candies every weekend. I used to have a Friday Junk Food night when the kids were much younger. It's the night when they can watch TV shows and munch on junk food since the rest of the week, they are not allowed to watch TV and eat junk food. Now that they are older, the husband has been very lax with our rules. I think that he buys the junk food because he wants to feel like a child.
Oh well, he enjoys watching the kids eat. Eating together as a family is a wonderful bonding experience, don't you think?
I will just have to monitor the junk food stock more often.
Thanks once again to Juan Karlo Licudine of pinoyblogero.com for the lovely header.
Let me know if you see problems in your browser