Do you believe in luck and chance especially in financial success? When our only son was born in 1993, our life changed dramatically. My husband and I believed that our son was our lucky charm which brought us good fortune and lots of happiness. In fact, among all the kids, Luijoe had the grandest Baptismal celebration and even birthday parties. Our family was indeed blessed. We could not ask for more. When we dabbled in stock trading, I had no knowledge on how the financial markets worked. My husband got a hold of Initial Public Offering (IPO) of large companies in the early 90's. The booming stock market and rising price indexes drove me to sell when it was high. It was bullish period in the stock market trading.
And how did I determine the time to sell?
I rubbed Luijoe's hair like one would rub Aladdin's magical lamp and I'd whisper to Luijoe " do you think mama should sell?"
If Luijoe smiled to his right that meant "yes" and the opposite is "No". What a silly way to sell?
Each of our financial decisions on our investments were based on gut feel and caressing my son's hair for good luck. Come to think of it, our financial success was probably based on faith and a positive focus on our financial affairs during those years. See, what happened after Luijoe died?
We lost focus. We had no direction. It took great effort to make important decisions. Slowly, our financial situation deterriorated until the time our family turned towards a positive resolution of our grief. Since I didn't have a son for good luck, I turned to Jesus and lifted my worries to HIM . Doors of opportunity opened and we reaped wonderful blessings from these as walked in faith and trust.
An opportunity to invest in the stock market greeted me once again with an invitation from Ely (through Gwen Nava) to bloggers for the launch of the Absolute Traders. The invite was a formal launch of this wonderful community of stock traders with the theme "Absolute Change", which will signal the pardigm shift in the way the public perceives the financial markets.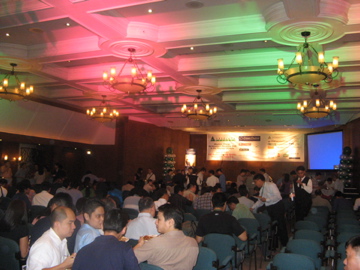 Now this is definitely something I look forward to. I don't intend to be a stock broker or anything but I 'd like to possess technical skills in analyzing the financial markets. Their group hopes to educate an investing public to use technical analysis in their trading and to go beyond tips and rumors. Even the founder, Bonner Dytoc said that "in order to trade, they don't need to dwell too much on the financial numbers, they just need to know when is the proper time to enter and to exit".
Not like me huh? I basically relied on gut feelings and luck. I hope to start their seminar "Basic Technical Analysis for the Financial Market" soon . Fortunately , it's easy to buy stocks now as one can buy through an online stock broker such as CitisecOnline or PhilStock. How very convenient for me who spends a lot of time online.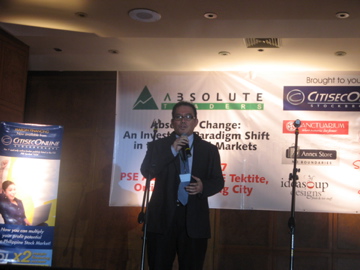 Just you now, Atty Francisco Ed Lim, President and CEO of the Philippine Stock Exchange (PSE) mentioned in his message that " the market is on a roll. The PSE which is the main barometer of local stock price movements expanded by 42.3 % in 2006, by 15% in 2005 , by 26.4% in 2004 and by 41 % in 2003. So far this year, the PSEi has reached levels never before enjoyed by investors in the 80 year history of our stock market. "
Now is the time to be an well-informed investor instead of relying on my old methods.
Note:
You can also read Ely's entry, It's A Great Time To Invest In Philippine Stocks
Other News Reports: