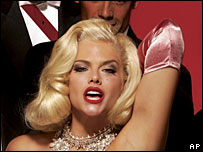 My heart goes out to Anna Nicole Smith. In death, she is still in the spotlight. [tag]Anna Nicole Smith[/tag]'s Death remains a mystery as of press time. The medical examiner says her death was "sudden, unexpected and unexplained. Upon hearing of [tag]Anna Nicole Smith's death[/tag], the first thing that entered my mind was her grief over the loss of her son, Danny five months ago. The reality of child loss is devastating to a mother. There are overwhelming feelings of guilt, inadequacy, and most often feelings of failure. These feelings can overwhelm a mother for several months following the death of a child, and it can be quite difficult to build a support system to carry a mother through this roller coaster of emotions.
I have known bereaved parents who numb their pain through alcohol or drugs. So the second thing that entered my mind was did she die from drug overdose, alcohol or both?
Though Anna Nicole monopolized the gaudy, gossipy celebrity stage in life and in death, I can truly relate to her pain.
I don't drink alcohol but during the early months of my grief, I just wanted to numb the pain. My doctor recommended anxiety pills but I refused. All I could think of is " Stop my heart from hurting, please. "
I also feel sad for Anna Nicole's bereaved mom who is also a grieving grandmother. This is not the natural order of life. Children do not die before you.
Arthur (her mom) blamed drugs for her daughter's death. "I think she had too many drugs, just like Danny," she said, referring to Smith's 20-year-old son, who died while visiting Smith and her newborn daughter in the hospital in the Bahamas, "and I tried to warn her about drugs and the people that she hung around, and she didn't listen."
– Source
Lastly, I wonder what will happen to her baby daughter.
Three men are now claiming to be the father of the child, who is potentially heir to a multi-million-dollar fortune.
Minutes after word of the death of stripper-turned-celebrity Anna Nicole Smith, the blogosphere began the autopsy of a life lived in the headlines, and the verdict wasn't at all pretty.
"Anna Nicole Smith's condition downgraded to dead," one writer on news commentary site Fark.com coldly noted. Thousands of visitors had posted remarks within hours of her death. Fark commentator "LikelyCulprit" posted a photo of a beached whale entitled "preliminary autopsy photo."
Ugh . No respect for the dead. Let's give her some peace.
Amidst all the confusion, the lawsuit, and the medical puzzle, I pray for her , that she is granted the peace that eluded the last few days of her life, and that she may find comfort in the presence of her son, Daniel.