UPDATED May 27- Winners (you can only win once. If your name is also a winner in other blogs, then I will choose another winner)
Gold Winners:
1. Jyrus Cimatu
2. SHIELA MAY LOPEZ
Silver Winners:
1. John Paul S. Tanyag
2. Kim sigrid espiritu
3. Liz Aquino
——
My father, a self-made man, was orphaned during his teens. He survived because his parents left a few coconut lands which gave his five siblings some passive income. More important than acquiring wealth, I learned from my dad the importance of risk-taking, investment and managing personal finances at a young age. But what if you were not exposed to financial planning? How does one learn?
In fact, you might ask…Financial planning, entrepreneurship, trading, investment, and stocks… What do these all really mean ? Do we know what money management exactly means? Are we utilizing what we earn in the right way to invest and create value for a better future? What are the risks involved when it comes to trading and stocks? These are a lot to think about. It might even sound complicated and intimidating, but this is where my friend, Randell Tiongson's ICON 2015 comes in. Hailing from the success of last year's ICON 2014, Tiongson makes a comeback with a conference that's bigger and better, and promises to have more in store.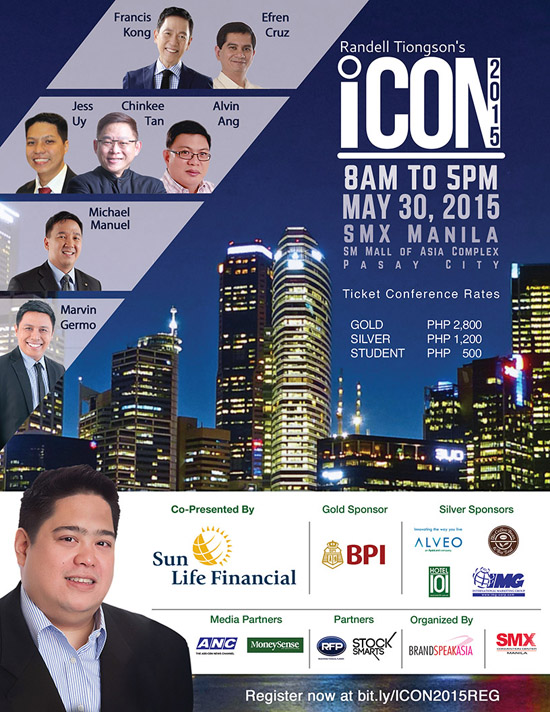 I have known Randell Tiongson in 2008, way before he became a blogger. I attended his first seminar on retirement planning with my husband and daughter in 2009. He is such a great mentor and inspiring lecturer. If you attend ICON 2015, you are blessed to listen to the best financial experts in the country . ICON 2015 will be held on May 30, 2015 from 8AM to 5PM at the SMX Convention Center, Pasay City. With a whole-day event and a packed program flow, you will ;earn the basics, get motivated and ultimately be inspired by the best speakers in the Philippine financial industry. In just one day, you will gain the knowledge and tools you need to get started in making the right investments and financial choices.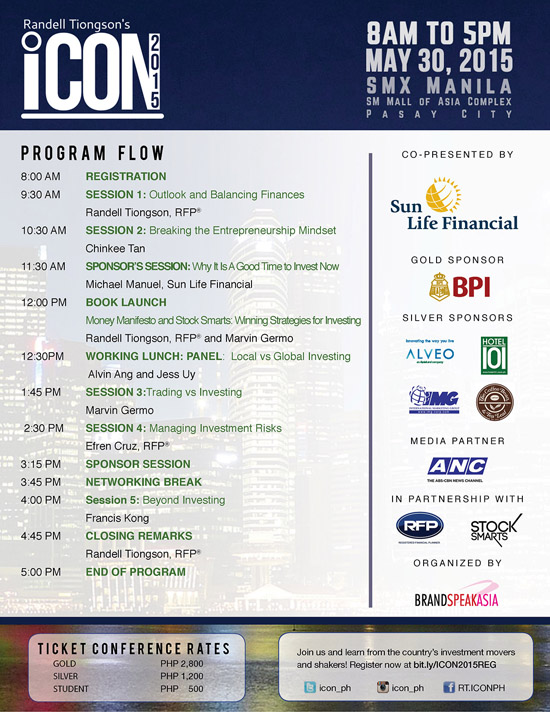 This year ICON 2015 is bringing you no less than the best speakers and advocates in the field of investing. Here they are:
1. The event's pioneer, columnist, and best-selling author of "Money Manifesto," Randell Tiongson .
2. Francis Kong,  respected lecturer, inspirational speaker and author of Only the Real Matters.
3. Marvin Germo,the well-known stock market trader and best-selling author of Stock Smart
4.  Jess Uy,s  Global Investing Advocate, personal speaker and finance coach and
5. Economist and Ateneo De Manila University Professor Alvin Ang .
The new speakers for this installment are: the seasoned financial adviser, best-selling author of the "Pwede Na! The Complete Pinoy Guide" series and founder of Personal Finance Advisers Philippine Corporation (PFAPC) Efren Cruz and radio host, wealth coach and best-selling author of "Till Debt Do Us Part" Chinkee Tan. Also, a brief sponsor's session will be given by Sun Life Financial's Managing Director (Asia) Michael Manuel as he tackles "Why It Is A Good Time to Invest Now."
Here are the registration fees : (It is an investment)
Gold – PhP 2,800 (You get 1 FREE coffee and snack from Coffee Bean & Tea Leaf but only for the first 150 attendees. You also get to be closest to the stage)
Silver – PhP 1,200
Student – PhP 500
You will learn a lot that it will surely pay the way to your financial freedom.
If you want to join us to this avenue of learning and investing, visit Randell Tiongson's ICON Facebook page and log on to bit.ly/ICON2015REG to book your seats as soon as possible! Also stay tuned to their posts on Twitter (@icon_ph) and Instagram (icon_ph) for more information.
Be part of this and learn how to invest for a greater future!
Giving you all a chance to join me
Thanks to my good friend, Randell…I have 5 tickets to give away: 2 Gold and 3 Silver tickets. Here is how to join:
1. Comment below why you want to attend ICON 2015. Make sure you can really attend the May 30 conference.
2. Deadline of comments is until 11:59 PM , May 26, 2015
3. Ticket is non-transferrable once your name is chosen.
I will choose the best comment for the Gold tickets and the next best three comments gets silver tickets.