Football is like life – it requires perseverance, self-denial, hard work, sacrifice, dedication and respect for authority. Vince Lombardi
Congratulations Azkals. You made every Filipino proud because of your perseverance and heart towards the sport. We are still proud you made it to the Semi-finals despite the challenges in the training. Congratulations Indonesia.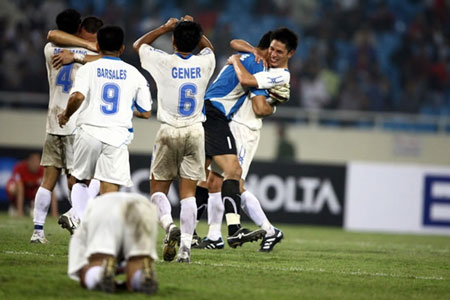 Photo credit:firequinito.com
The Philippines' magical run in the ASEAN Football Federation (AFF) Suzuki Cup came to a halt Sunday night after falling prey to Indonesia, 0-1, in the second leg of their semifinal clash at Jakarta's Bung Karno Stadium.
Thank you for finally bringing football to the Philippines. There are more football lovers now. It all starts here, so keep going and continue on. We'll keep on dreaming.
Like @aupijuan said in Twitter, "Azkals Christmas gift to us was giving us hope that Filipinos can truly be good at FOOTBALL. Thank You Azkals!"
I admire the discipline it took to get this far and I agree with @hotmainila in Twitter that even "Note: with no tradition, no record and not even a frigging stadium to call its own, PH made it to the semis"
Perhaps it is time to encourage football starting with our kids.