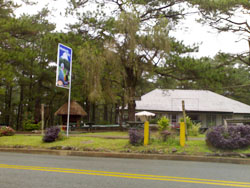 My husband and I just arrived from an overnight trip from Baguio. Oh I just love Baguio on a non-peak month. Traffic was so smooth all the way to Baguio and back. We were supposed to stay at the Baguio Country Club but the club gave such a lovely promo to its members , like pay one night for a two nights stay . Naturally, all the rooms were fully booked. We decided to stay at my husband's ancestral home instead. Not quite the romantic interlude I expected for the weekend but oh well, at least I was with my loving husband. Revisiting Baguio is such a bittersweet experience. Every summer and Christmas season, we bring the three kids to bond with their roots or rather with their father's roots. I also bring them to Cebu, where I grew up. Camp John Hay is one of the places that my son and I use to play during the summer months. I have not been here for such a long time since his death. I cannot help but miss his physical presence so I breathe in the cold pine scent hoping to feel a spiritual connection with him. Knowing he was here at one point in his life is enough to make me smile.
I looked around for a wifi enabled coffee shop on an early sunday morning.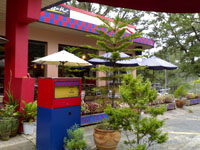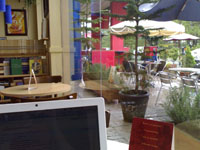 The best place to get an internet wi-fi is at the Filling Station in Camp John Hay. It's quiet and has a spectacular view of the pine trees. There is a butterfly farm beside it but the rains prevented me from strolling further. So there I was sipping coffee and looking out at the pine trees hoping to catch a moment in time. Those moments when the laughter of my son and girls used to reverberate the cool air of this city. God, how I miss those days.