Pope John Paul II has just been beatified. I feel so blessed. I prayed for my special intentions already. I reminded my daughter to pray too. She is blessed to have been blessed by the Pope in January 5, 2001.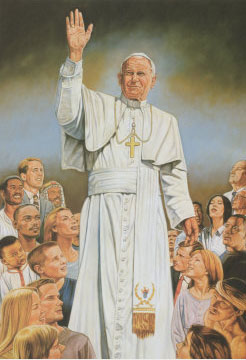 Only one miracle is needed to start the canonization process of Blessed John Paul II and declare him Saint.. I hope someone gets this miracle not because I want the pope to be a saint but to offer new life to that person. I have been reading up on the Pope the past few days and read some of his thoughts on family life, marriage and his thoughts on contraceptive. While I don't agree with his stand on contraceptives (I have never used though), I do believe in doing the best to nurture the family. Here are some quotes about family I gathered that may serve inspiration .
"Marriage is an act of will that signifies and involves a mutual gift, which unites the spouses and binds them to their eventual souls, with whom they make up a sole family – a domestic church."
"As the family goes, so goes the nation and so goes the whole world in which we live."
""The fear of making permanent commitments can change the mutual love of husband and wife into two loves of self-two loves existing side by side, until they end in separation."
""To maintain a joyful family requires much from both the parents and the children. Each member of the family has to become, in a special way, the servant of the others."
"The great danger for family life, in the midst of any society whose idols are pleasure, comfort and independence, lies in the fact that people close their hearts and become selfish."
'A family policy must be the basis and driving force of all social policies'.
"A nation that kills its own children is a nation without future."
"You will reciprocally promise love, loyalty and matrimonial honesty. We only want for you this day that these words constitute the principle of your entire life and that with the help of divine grace you will observe these solemn vows that today, before God, you formulate"
""When freedom does not have a purpose, when it does not wish to know anything about the rule of law engraved in the hearts of men and women, when it does not listen to the voice of conscience, it turns against humanity and society."
I may not be religious person or even a devout Catholic but I have taken heart the teachings of the Catholic Church. If you have been reading my past entries, I related the struggles I went through to keep my marriage and family together. I attribute our courage to change by having faith in God.
I have since stopped attending Catholic mass in the Philippines because of the heated Reproductive Health Bill which in my conscience is beneficial to many people. It does not mean I have stopped loving God and believing in him.
I am blessed that a family member is blessed by the Pope.
I am blessed that my son is an angel, who can relay my prayers to God. Oh yes,there have been many instances that my angel has helped me.
This is a blessed day. The Blessed Pope John Paul II is with us all.