I told myself that I should take a break from blogging. Just when I thought the waters are calm, Mike Abundo reveals that a hearing on a proposal by the Philippines' National Telecommunications Commission that will require licenses for online content developers will be held today. The public hearing is set at 2pm Thursay GMT+8 (meeting got cancelled) at the NTC Executive Conference Room, 3rd Floor, NTC Building, BIR Road, East Triangle, Diliman, Quezon City, Metro Manila, Philippines.
The proposal is called the GUIDELINES ON THE PROVISION OF CONTENTS, INFORMATION, APPLICATIONS, AND ELECTRONIC GAMES. Content definition is not quite clear but I hope that can get threshed out. Is the memo applicable to commercial sites? And are personal sites exempted from this definition? Imagine paying 6,000 pesos annually for licenses when people create and post content online. Just the same, I asked my husband to read the memorandum so I don't miss any fine print.
(edit -updated at 7:00 PM: My husband's opinion below and read this Business Mirror article that explains the memorandum. Thanks Scrufus for the link. )
The definition of Content Developer is too vague and broad although it would appear to regulate content provided ""for compensation". It could be dangerous as it could be used to stifle the blogosphere…

Bloggers should question this measure.

It's not the money, although 6k is a lot. It's using government policy to control and regulate content online. It's a freedom of expression issue. It infringes on the constitutional right of free speech and expression.
Now, this reminds me of a reader who pointed out that those living in the US have what they call Bloggers' Rights that is defended by the Electronic Frontier Foundation (EFF). I recall reading this site while I was still new in blogging. Is it high time we adopt similar guidelines for Bloggers' Rights ? I don't know if a non-profit organization is willing to take the cudgels.
Take a look at the recent controversy of student bloggers in Quezon City High School and the libel case slapped at Bambee de la Paz. Litigation is expensive if the case prospers.
None of these cases should stop us from blogging. Freedom of speech is the foundation of our constitutional rights and our laws need to be updated to include current trends in the internet.
In the Bloggers' Rights site, they released a Legal Guide for Bloggers which I believe can be adapted to our country's laws. Basically, it would be nice to have:
1. a basic roadmap to the legal issues you may confront as a blogger, to let you know you have rights, and to encourage you to blog freely with the knowledge that your legitimate speech is protected.
2. a Student Bloggers FAQ where it addresses legal issues arising from student blogging. It focuses on blogging by high school students, but also contains information for college students.
3. a Bloggers' FAQ on Election Law addresses the legal issues you may face blogging about political campaigns.
4. The Bloggers' FAQ on Labor Law that addresses legal issues with workplace blogging, including union organizing, protections for political blogging away from the workplace, and whistle blowing.
5 .The Bloggers' FAQ on Intellectual Property that addresses issues that arise when you publish material created by others on your blog.
6. The Bloggers' FAQ on Online Defamation Law that provides an overview of defamation (libel) law, including a discussion of the constitutional and statutory privileges that may protect you.
Electronic Frontier Foundation (EFF) encourages other countries to feel inspired with their work and do research. I believe they have provided us with some basic framework.
Any takers?
What is a Blog?
A Comm III (Speech and Communications) class in UP Diliman invited me as part of their interview exercise at the ungodly hour of 7:00 AM. The interview centered about blogging and new media. Naturally, I thought of taking photos of the interviewers and the audience.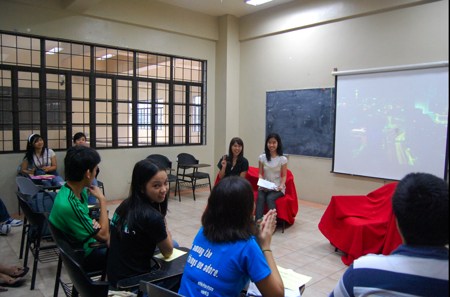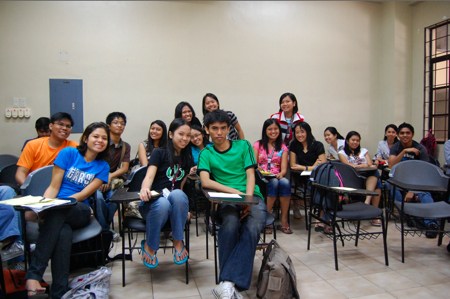 Thank you Comm III class for making me part of this exercise.
Now for those who don't understand what a blog is, I found this video that explains what a blog is in plain English. Watch it.