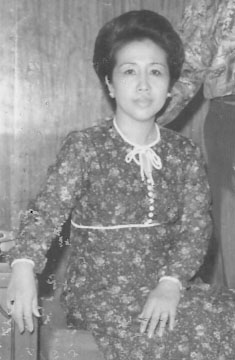 It was a warm Sunday afternoon in 1972 as mom and I were taking a siesta by the porch. I still remember that fateful day when mom anxiously took my hand so I could feel the lump in her left breast. I felt the soft mass but I had no inkling that it was cancer then. Cancer does not happen to us. It's an illness we just hear from other families like my next door neighbor who survived it anyway. I quickly erased the negative thoughts from my mind. Mom got operated that same week and it wasn't good news. Her left breast had to be removed including part of her armpits where cancer cells invaded her lymph nodes.
Physical Therapy, radiation, chemotherapy, hair loss, a dozen wigs, remission, a relapse, a trip to New York to visit Betty Ford's doctor, a visit to Lourdes, France for miracle water, black chickens for sacrifice, aphasia ensued for the next 3 years. Despite all the measures, mom died on July 25, 1976 at the age of 45 years old. I was on my third year of college in UP Diliman and together with my siblings, Lorna and Oscar, we took the plane to Cebu. I peered down the runway as the raindrops splashed the glass window as if in unison with the tears that fell down my cheeks. I was sad that my mom was probably dying and even sadder at the thought that my dad would suffer the pain of losing a wife. I wasn't particularly close to my mother. Years of verbal and even physical abuse brought that awkward distance between us. Yes, it's sad I didn't feel maternal love from her. And vice-versa.
During the wake, we were told by the family doctor never to take birth control pills as it could trigger breast cancer cells. I forgot the reason behind this now.
Years later, I became a mother myself. A friend was dying of breast cancer. A worried Butch implored that I take a breast exam to rule out any breast cancer which could be in our genes. I was only 39 years old and I thought maybe I should take that mammogram before I hit 40 years old at about the time mom discovered the lump.
I took that painful mammogram test where the machine squashes your breast as it takes an x-ray. The results were not good. I quickly called David, my brother who was then a neurology resident at some medical school in the Philippines (the University of the Philippines-Philippine General Hospital (UP-PGH) ).
There was some hazy mass showing up on my left breast which was not palpable. It's the same spot where mom had the lump. David strongly advised me to have immediate surgery to have it checked if it was benign or not. My brother said that breast cancer cells can be so aggressive and can quickly replicate in a few weeks. Shocked at two doctors' medical opinion, I told myself that I cannot die now. Not when my kids are still so young. Lauren was only 10. M was 9 and Luijoe was 3 years old.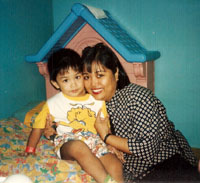 No, I cannot die yet.
I cried in bed and my thoughts went to my mom during the days she suffered from the ravages of her breast cancer. I imagined her in the same situation , livid with fear of leaving my young kids and husband. Then I prayed and asked for forgiveness and understanding for all those years that we drifted apart. Bearing a grudge or deep resentment on someone is like cancer cells eating up your heart and mind. With the release of negative emotions of the past, I was ready for my surgery but first I took the day off before surgery to be with my kids at the play center in the mall. Thinking I might die on the operating table, I held on to these precious moments by having a fun photo shoot with my kids. I thought with a heavy heart .
They will look back to these memories and remember that their mom loved them so much.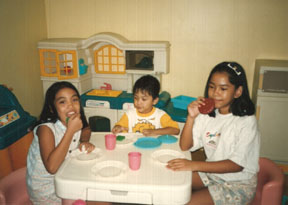 I surrounded my hospital room at the Philippine General Hospital with these photos. Just before I left for the surgery, I gazed lovingly at the photo of my three beautiful children.
I can't leave you yet. God, don't let me die.
I needed a needle localization of my "breast mass" because it was not palpable and my surgeon need to know the exact location of this mass. With the long needle stabbed on to my left breast, my brother wheeled me over to the surgery room. There waiting for me was an outstanding surgeon, Dr. Rodney Dofitas, my brother-in-law. I gave instructions for him to remove my breast if found to be malignant. With everything in order I counted to ten as I fought back the anesthesia to kick in
Much later, I woke up to my brother-in-law who cheerfully announced that the breast mass was benign. He excised the mass for extra precaution, hence my left breast is a smaller than my right one. I don't mind the disfigurement at all.
My heart just leaped with joy. I couldn't help but cry and thank God for giving me this second chance. My friend died a year after my surgery. When I reached my 46th birthday, I thanked God for each additional year in my life that my mom didn't enjoy. I celebrate each year with joy and gratitude that my kids still had a mother in their growing up years. Every additional year is a bonus.
It's been 40 years since my mom died of breast cancer and technology for early breast cancer detection is in place. Even the medications increase chances of survival. There is even breast reconstruction surgery. Talk to your doctor soon.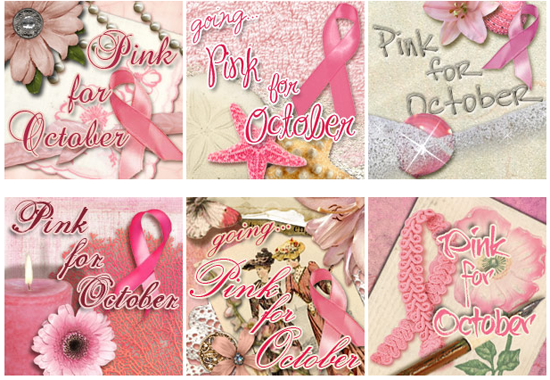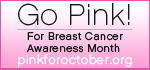 Go Pink in Support of Breast Cancer Awareness. National Breast Cancer Awareness Month is dedicated to increasing awareness of the importance of early breast cancer detection.
Photo above was taken a few months before mom discovered her breast cancer in 1972