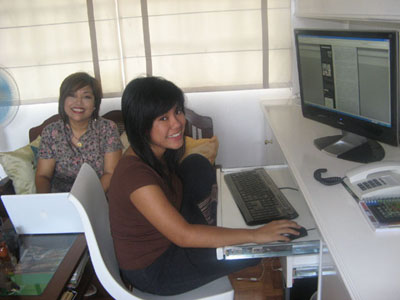 The day Lauren wrote her essay on "Generation Next, Generation Net" 11 years ago, I had no idea I'd end up being a blogger just like her. During those days, diarist or online journallers were relegated to the twenty something and below. Moms did not blog. Our kids must have been so influential in inspiring moms like me to blog. I am not alone. Take a look at JAngelo and his mom, Dine or Aaron Roselo and his mom blogging at AMomandMore.
Having read Lauren's blog for many years sublimally prepared me for the launch of my blog 10 years later after she started in 1996. Let me count the ways:
1. Content (Good and Original) is King.
Good content shows the blogger's own personality and flavor. Her story-telling style made it very interesting for her readers of all ages. Good content built a strong readership which she continues to enjoy until the present time. The power of stories to connect, captivate and persuade, creates a great way to grab hold of a reader.
2. Write frequently, write well, write with a voice
A voice keeps visitors coming back to your blog again and again. A voice permits the reader to feel like they "know" you without even meeting you face to face. A voice paves the way for readers to connect to you on a personal level.
3. Being the first doesn't mean anything
In an interview, she opines that Honestly, I don't believe that my being the first blogger is a real achievement, because being the first to do something doesn't really count. Anyone could've been the first blogger; it was just due to luck that it happened to be me.
So there are a lot of firsts or pioneers in the Philippine Blogosphere but is it important? So what if I am the first awardee for the blog category or you're the first blogger to be a so-and-so niche-blogger? It doesn't end there. I'd rather be known for achieving and sustaining the goals of my blog. Blog goals keep me grounded.
My daughter's words above ring true and keep me inspired to continue on with my blog advocacy. Isn't it amazing that we learn so many wonderful things from our children? Our kids keep us in touch with our "inner child" that we never lose sight of no matter how old we get.
How have your kids brought you up?
P.S.
Oh and if you missed the Feature on bloggers by Annamanila in today's Sunday Inquirer Magazine, here it is:



Click on the Thumbnail of the Sunday Inquirer Magazine feature on Bloggers