Blogging has been so good to me. Blogging has brought me so much, more than I ever imagined it to be that I want to give back to the blogging community. It doesn't matter what the sour grapes say about certain bloggers (including myself) in the blogging community but chilling with bloggers is really fun! What a weekend. I got the chance to mingle and talk with bloggers of all ages. Who says that bloggers are only interested to party and eat out or attend new media events ? Oh my, you will be surprised. We love to talk non-stop! Let me count the ways that you might learn from my weekend with some bloggers:
1. Focused Group Discussion
For the love of my daughter, I gathered five bloggers for a focused group discussion for her Psychology 118 study over at my house for a Friday night dinner. It was such a short notice and knowing young bloggers, their friday night often gets fully booked. Am I glad that Dine, Shari, Juned, Rico and Sasha took time off from their busy schedules for a round table discussion on why bloggers blog. Since it's an academic study, I can't give out much details on the discussion but Juned's Talk and Dinner and Rico's Why are Bloggers Great for Focus Group Discussions? will give you an idea.
It might interest you to know that I have the same reasons as Juned on why I write in my blog.
1. I blog to point things out. Anything worth pointing both tho beautiful and not-so-beautiful, the exciting and the mundane; A perfect ice crystal or the drip-drop and sloosh of the monsoon as it makes its way to the house.

2. To chronicle events. To record things for posterity and probably more i importantly to record events from your own perspective.

3. To move people or a group a desired way. It could be political and then again it could be not. The important thing to remember is the personal need to motivate, convince and a maybe even inspire.

4. To satisfy the Ego.
M needs 5 to 7 bloggers for a Focused Group Discussion- Part 2 on Wednesday, September 12. If interested, please SIGN UP HERE
2. Bloggers' Kapihan 1 Blogging Basics
I arrived at around 2:00 PM at the Philippine Science High School last saturday. Feeling lost, I called Abe Olandres knowing he was going to be around since he was a speaker. Oh my, we were both surprised. Yuga was still in Makati because he was not sure if he was supposed to talk that afternoon. It's a good thing I called. He made it all the way to Quezon City in 30 minutes. The topics and speakers for the afternoon were:
Some Interesting tidbits of their talk:



Manolo says that "Everything is political, and it all begins with sex."
A lot of people will say it won't matter. The more you say, the greater the chances you will say thing that matters.
Considering the opportunity , don't leave it to us. Do your part also. It may not matter to Filipinos but it will matter to others outside the Philippines.


Yuga warns that blogging is not a racket. It took him two years or more to get to where he is right now. It's not that easy. He emphasizes some points:
Focus on a specific topic
Blog to share to or influence people
It is not the writing but in the message.
Earning from your blogs follow the same business model as Inquirer.net except that blogs earn on a smaller scale.

Bikoy has been blogging for the past 7 years so he is quite a role model for student bloggers. He gives tips to student bloggers:

KNOW WHAT YOU'RE SAYING
1. Be prepared to face up consequences because of what you write.
2. Be prepared for confrontation.
3. Deleting your blog entries can be futile.

TRY TO BE VISUAL
1. Don't limit your audience to your friends or schoolmates
2. Tendency to talk about school routine in a mundane and monotonous way
3. Take pictures to help readers, to visualize what you're writing.
LINK UP
1. Student blogger unions
2. Don't limit your audience to people within your social circles.
3.More than raising page ranks or blog rnarks, it's raising awareness
GO OUT
1. You can only blog so much if you confine yourself to the four
corners of your classroom
2. Seek new experiences, Enrich your experiences as a young person.
CHALLENGE

1. take student blogging beyond the stereotyped teenage diary or
journal writing.
2. Blogging more representative of a community of young Filipinos, our
interests and aspirations.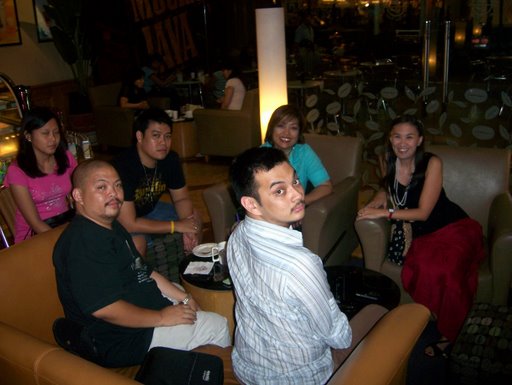 (Photo from Aileen Apolo
I signed up as a volunteer for the Blog and Soul Movement initiated by Jayvee, oh yes, the same Jayvee who got attacked for being a blog elite or mafia or mob! Whatever! They don't even know what runs inside the heart and soul of this blogger. Anyway, the movement is now run my volunteers who believe in the goals of the Blog and Soul Movement : (i) Blogcentric; (ii) Skills enhancing; (iii) Fun and (iv) altruistic. After the Bloggers Kapihan, I drove over to Serendra for a Blog and Soul meeting with the volunteers. This time, we discussed on the future activities of the movement. Just watch out for the announcements. They will surely tickle your imagination. Most of all, it's going to be fun.
Lastly, bloggers might be interested to know that my friend, Jove Francisco, a news reporter (and a blogger too) of ABC Channel 5 has a new portion in the SENTRO news called Sidetracked every 9:30 PM:
Sentro's new segment: SIDETRACKED — a portion that serves as a round up of what's happening in the world wide web, among other stuff or areas that will be featured in the future. In the first edition, Jove Francisco –me, hehehe— discussed the return of Malu Fernandez and the quick response of the Philippine Blogging Community. So who did we quote? It might be your blog! There's also a follow up about the now famous beauty pageant incident involving Miss Teen South Carolina. Plus other news links. The segment is named SIDETRACKED because the concept is for our reporters to continue covering their respective beats but from time to time get sidetracked by anything of interest and newsworthy. Tonight, it was my turn and the internet SIDETRACKED me.)
If you missed the past episdoes of SIDETRACKED, Jove added youtube videos in his blog.
What have I learned about my weekend with bloggers?
1. Whether there is a blogging elite or not, It's your attitude and actions towards your fellow that defines what you are.
2. Age is blurred when chilling among bloggers.
3. Bloggers can either be exhibitionists, voyeurs or both.
4. Bloggers love to talk and the non-bloggable chit-chat is even more interesting than the blog entries.
One of these days, I am going to host a blogging 101 especially for mommies. Now what would mommies want to learn about blogging?