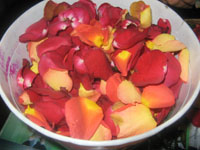 "Do you have rose petals?" The florist sounded a bit too excited when he asked "For your bed?". I could have smacked the nosy florist but I took everything in stride. "No, it's for my daughter's hoity-toity grown-up party". The nosy florist continued " Oh she is scattering petals on the stairs". Maybe this florist asks every customer what they do with their rose petals. He proceeded to narrate how a wife preferred rose petals strewn all over her house, over the thorny rose flower. Enough , enough. I need the petals now. The rose petals will serve as as floral decoration for the party tables. I patiently explained to the florist. For 100 pesos ($2.00) I got a sizeable amount of rose petals.
As usual, the stage mother in me was tasked to procure those rose petals while the daughter basked in the soothing wonders of the beauty salon. Not only is my daughter a creative writer, she is also a creative party events person. I bet she can make a career out of it.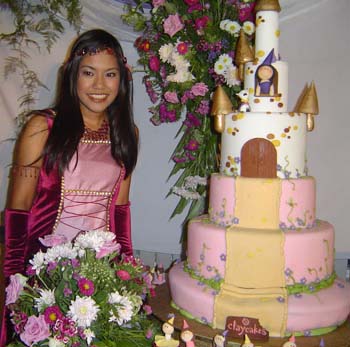 I remember how Lauren planned her 18th Debut party that was centered around a medieval theme. Even her 18th birthday invitation card exuded words that could make you chuckle. Most of all her debut didn't cost us an arm and a leg . You will be surprised at the savings as compared to most debutante parties. What is most amazing is that the keyword "18th birthday party", "18th birthday cake ", "18th debut" is sought most often from Google searches. It is no wonder the Google Adsense income has more than paid us back for the expenses. Isn't that cool?
I don't know what Lauren placed in her invitation when she invited her friends over to her "satirical grown-up party". I still think it's a "coming of age party". I was told to dress up because this would be her first ever adult party. Lauren wasn't able to hold a proper 21st birthday party celebration because we just moved in to our new home. Ever since Lauren started working, I often complain why she is always out with her friends till the break of dawn when they can easily just hangout in our new home. Perhaps she mulled over my suggestion and finally relented. But oh my! It was quite fun.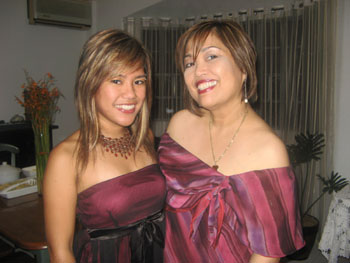 My husband and I couldn't sleep because Lauren's laughter resonated through the thick walls of our bedroom. Imagine they partied for 12 hours. If we were still living in Makati, the guards would have gone knocking at our doors and requesting that they tone down the noise. Where do these kids get their energy? I never partied till the break of dawn or perhaps, I am not a party person . I didn't mind the noise as long as I know my daughter is safe within the confines of my home and enjoying her first adult , coming of age party.
Lauren will look back and remember how happy she was this day. I can only sigh and reminisce of the years gone by. Oh yes, she is an adult but I will always be her mom.