Update (August 5)– View Photos and Video of the President Cory Aquino Burial
Faith is not simply a patience that passively suffers until the storm is past. Rather, it is a spirit that bears things – with resignations, yes, but above all, with blazing, serene hope. Corazon Aquino

That's me in yellow taking video footage as I held on to my dear life on the iron railings of the truck. Photo credits to Liyam
The stirring scene that unfolded before me as President Aquino's cortege passed all the way from La Salle Greenhills to Manila Cathedral is just overwhelming. I had no idea that a huge number of people would show up. Traffic stopped. People got out of their cars, clapping, calling out "Cory Cory". All people from all walks of life, either threw confettis, balloons, held placards "we love you Cory". I got goosebumps just hearing the people cry out "cory cory". Here are the photos I took as I joined photographers and media on an open truck which was positioned right in front of President Aquino's cortege. I endured 5 hours of heat, thirst and cramped space just to take photos and witness the outpouring of love along the streets. Mind you, I usually don't join traditional media for current affairs but this is a historical event. If you see the photos, I don't think there will be anything like this in the near future.
Video Footage I took from La Salle Greenhills to Ayala Avenue
Here is a labor of love , videos and capture of 300 photos for those who couldn't be there for her memorial services. These are just a preview of these photos.(videos after the photos)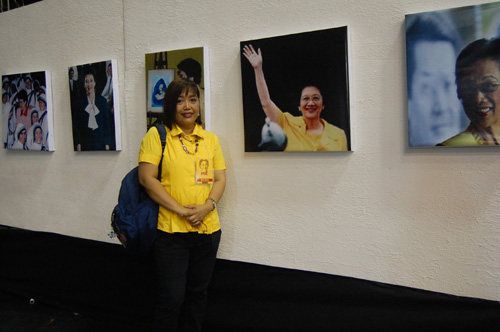 At La Salle Greenhills just before leaving for Manila Cathedral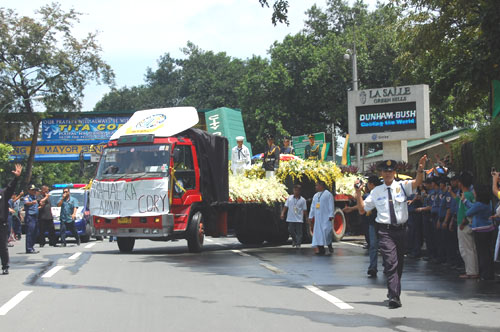 At 11:00 AM, President Aquino's cortege left La Salle Greenhills. Our media truck was right in front of their truck but I was unable to get a nice shot from this angle except when the truck turned into a corner.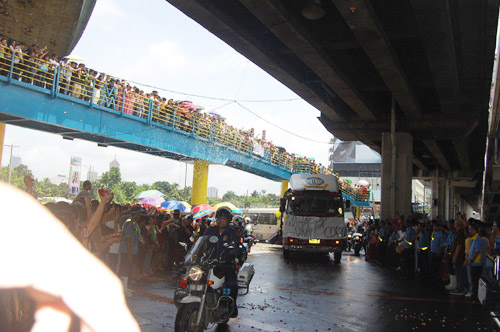 On its way to EDSA. Confetti pours everywhere. Along the way, people whipped out their cellphone cameras or digital cams to record this historical moment where People Power is once again revived.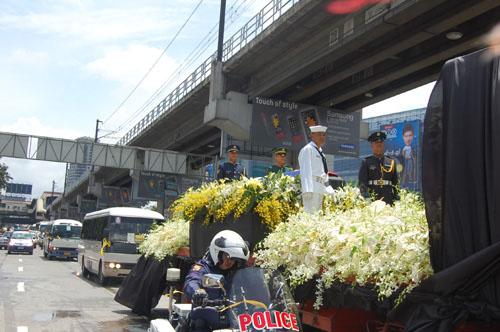 The ride in EDSA is fast and smooth but I didn't expect a huge crowd awaiting us at Makati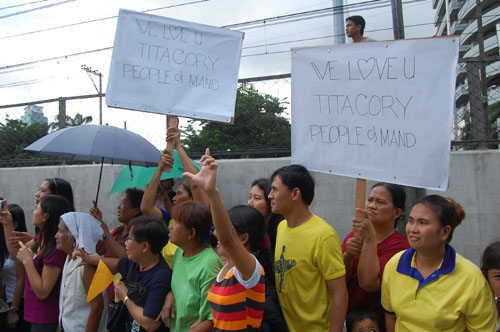 "We Love you Cory".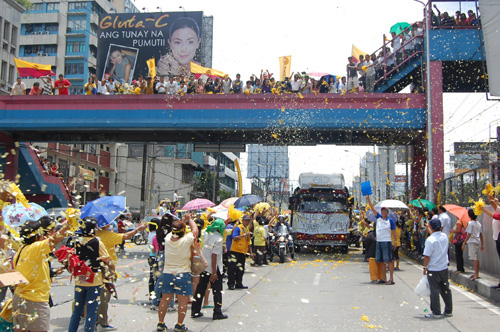 Confetti kept pouring down from everywhere!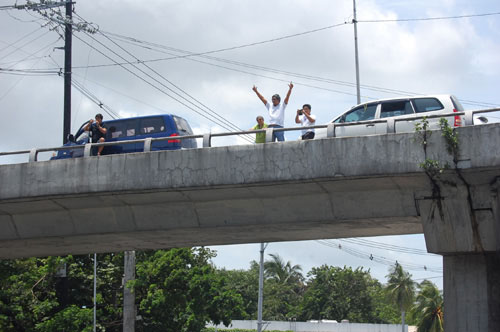 This man went down from his car to show his support for our dear departed President Aquino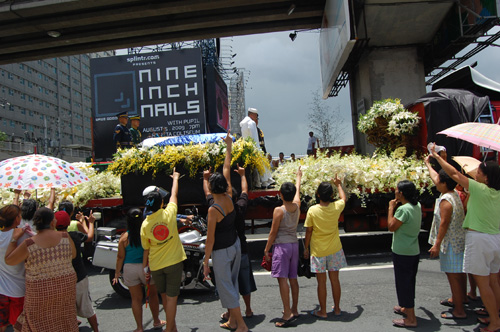 Claps and the L (for Laban sign), the symbol of Cory's fight against the Marcos dictatorship.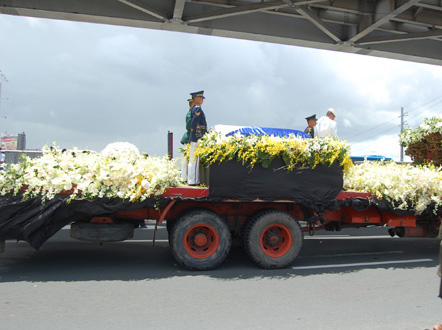 I finally get a better shot of President Aquino's truck as it passed by EDSA.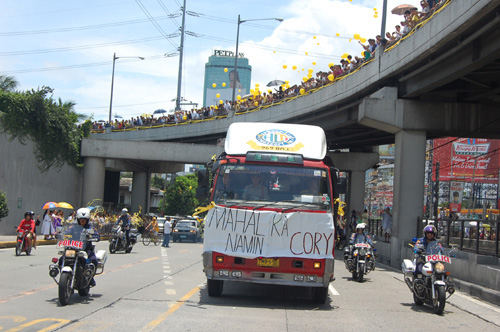 Nearing Ayala Avenue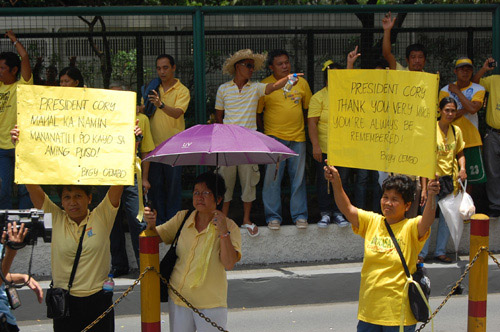 "President Cory. Thank you very much. You will always be remembered"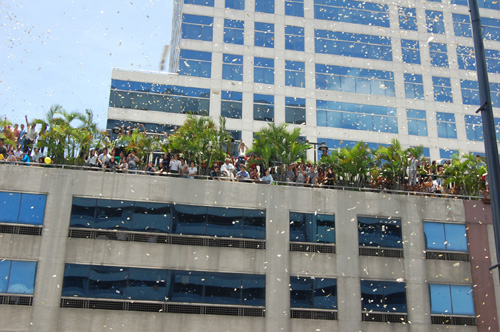 Confetti rain down from buildings. Thousands in yellow shirts flashed the "L" sign as they lined up along Ayala Avenue. Office employees, some perched on building ledges, threw yellow confetti as the funeral convoy passed.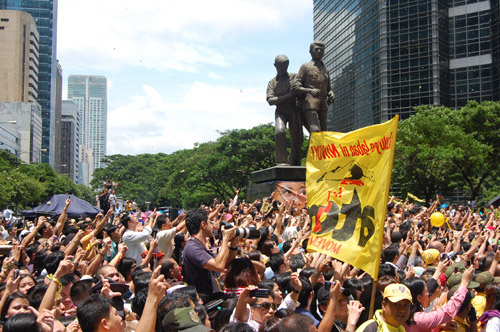 The crowd was overwhelming and it took more than 30 minutes to reach the Ninoy monument. When the funeral cortege reached the monument of Mrs. Aquino's late husband, Senator Benigno Aquino Jr., on the intersection of Ayala Avenue and Paseo de Roxas, the crowd of thousands simultaneously sang "Bayan Ko" (My Country) and again flashed the "Laban" sign.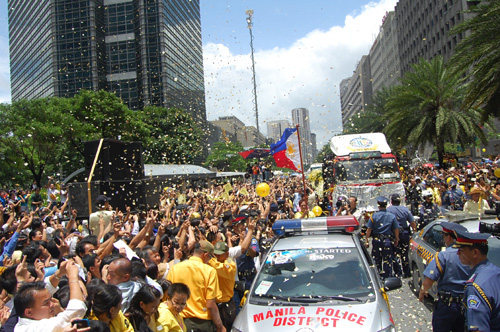 Snail pace movement from here till the end of Ayala Avenue. Police estimated the crowd in Makati at 25,000, while those that lined up along Edsa were estimated at 5,000, said Superintendent Rommel Miranda, spokesman of the National Capital Region Police Office (NCRPO).

Chanting "Cory cory"

More of the Makati crowd

Some of the photographers and media in our truck. We withstood the heat, thirst and hunger for almost 5 hours just for the love of Cory.

Ka Edong, who is also a volunteer took this shot of me in action.

Jose Cojuangco Jr., led his clan from Tarlac in joining the funeral procession to the Manila Cathedral. Cojuangco, overwhelmed by the thousands who lined up Ayala Ave., flashed the "laban" sign to the crowd and reached out to shake the hands of some of the people there, saying thank you.

Traffc stood still but the passenger didn't mind the wait. He got a very good position atop the taxi cab's roof.

An adoring crowd raising the "L" (Laban sign)

"To the Mother of our Country, Thank you so much President Cory"

A Cory Doll

Carrying flowers, the convoy is now in Buendia Avenue

At the Buendia Flyover

"We love you Cory", along the South super highway

Four honor guards stood by Aquino's flower-adorned casket. Around 50 policemen from escorted the procession, which moved slowly because of the huge crowds.

"Paalam Tita Cory". This kid was not born when President Aquino was the President of the Philippines. He neither had personal memories of the EDSA 1 People Power Revolution, the brutal dictatorship of the Marcos regime or Ninoy Aquino's assassination. He probably heard stories about Cory's unique place in Philippine History, as the icon of democracy.

At Roxas Boulevard

Arrival at the Manila Cathedral. Yellow confetti greeted the funeral procession as it arrived at the Manila Cathedral at around 4 p.m., two hours behind schedule.

Bringing Cory's casket inside the Manila Cathedral. Cory's children escorted her remains, including her daughter Kris Aquino, who was with her husband, basketball player James Yap and their children Joshua and James Jr. Senator Benigno Aquino III was at the cathedral ahead of his sisters.

President Aquino was given military honors, followed by prayers from Bishops Socrates Villegas and Broderick Pabillo.

Inside the Manila Cathedral

Outside the Manila Cathedral. The people are forming their lines at General Luna st for the public viewing

The lines are long. I took this photo at around 5:00 PM but the public viewing will still be at 8:00 PM

Some bear gifts of flowers. They don't mind waiting in line because they want to pay their last respects to a good president.

This message sums up the phenomenal outpouring of love and sympathy towards our dear President Cory Aquino… "We love you President Cory"
Thank you President Cory. I pray that your democratic and constitutional legacies live on forever in the hearts and minds of the Filipinos especially the future leaders of our country.
Today just shows that love begets love. Cory showed love to our country and the Filipinos, through her actions and deeds. The real tribute came from the people. President Cory Aquino does not need state honors.
I hope we will always remember that we need to protect our democracy. It is a reminder that we should not be complacent of the Constituent Assembly, that we should oppose Charter Change perpetuating President Arroyo and her allies in power.
There is one way we can thank Cory. Be vigilant. Defend or Help protect our democracy. Let's keep the faith burning for our country. Let's not lose hope.

View the Cory Aquino Memorial Services Photo Gallery (videos below)
Update (August 5)- View Photos and Video of the President Cory Aquino Burial
Source of some annotations from Inquirer.net
Videos of the Funeral Convoy
La Salle Greenhills to Ninoy Monument in Ayala Avenue, Makati

Video Link
From Roxas Boulevard to Manila Cathedral- Military Honors

Video Link
I feel so blessed to be part of the "Laban ni Cory" documentary of ABS-CBN (last part of the documentary at 6:50 mark)

The first part of the "Laban ni Cory" documentary starts Here.
Prayer for a Happy Death
Here is a prayer written by President Cory Aquino
Prayer for a Happy Death
by Corazon C. Aquino
Almighty God, most merciful Father
You alone know the time
You alone know the hour
You alone know the moment
When I shall breathe my last.
So, remind me each day,
Most loving father
To be the best that I can be,
To be humble, to be kind,
To be patient, to be true,
To embrace what is good,
To reject what is evil,
To adore only You.
When that final moment does come
Let not my loved ones grieve long,
Let them comfort each other
And let them know
How much happiness
They brought into my life.
Let them pray for me,
As I will continue to pray for them,
Hoping that they will always pray
For each other.
Let them know
That they made possible
Whatever good
I offered to the world.
And let them realize
That our seperation
Is just for a short while
As we prepare
For our reunion in eternity.
Our Father in heaven,
You alone are my hope,
You alone are my salvation.
Thank You for Your
Unconditional love.
Amen.