Public sentiment is everything. With public sentiment nothing can fail; without it nothing can succeed. He who molds public sentiment goes deeper than he who enacts statutes or decisions possible or impossible to execute.
Abraham Lincoln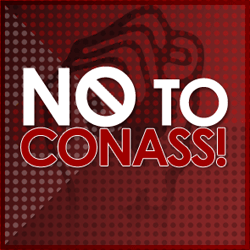 Visit notoconass.com for the manifesto
In the baby book of my daughter, Lauren, there is a blank space written there for current events on the day of her birth. You know how moms are. We want to document everything and reminisce on those good old days. I clearly remember scribbling down …Today,
March 25, 1986
,
THE 1986 PROVISIONAL "FREEDOM" CONSTITUTION
was proclaimed. What joy it was to whisper to my first-born that she is going to live in a democratic society. I stroked her chubby little fingers and told her that "A new government was installed through a direct exercise of the power of the Filipino people assisted by units of the New Armed Forces of the Philippines and the heroic action of the people was done in defiance of the provisions of the 1973 Constitution." Oh yes, our country held so much hope for her future.
The following year on February 11, 1987, the 1987 Constituion of the Philippines was proclaimed and took effect, just six months before I gave birth to my second daughter, M. So full of hope and love of country, I threw the US immigration papers aside that my sister sent over to me, as I read the Preamble:
We, the sovereign Filipino people, imploring the aid of Almighty God, in order to build a just and humane society and establish a Government that shall embody our ideals and aspirations, promote the common good, conserve and develop our patrimony and secure to ourselves and our posterity the blessings of independence and democracy under the rule of law and a regime of truth, justice, freedom, love, equality, and peace, do ordain and promulgate this Constitution.
And what happened just a few hours ago? It took only a few seconds for the House of Representatives to approve a resolution that would convene Congress into a constituent assembly to amend the 1987 Constitution. (click here to read Proposed Charter Amendments).
Perhaps, our country needs some change, whether it be a charter change or not. But at this time?
I strongly oppose this resolution to convene a Constituent Assembly that may practically extend their terms such as our dear President and her allies in power. Why couldn't they amend the Constitution after the term of President Gloria Macapagal Arroyo? It sounds really suspicious.
The resolution gives us some measure of comfort.
The resolution states that its more than 170 co-authors are "resolved with finality" that the terms of the following will not be extended – the incumbent president and vice president, senators, representatives, governors, mayors, and other elected officials whose term of office will expire in 2010.

It also provides that the 12 senators who were elected in 2007 for a six-year term will be allowed to finish their terms, and that the 2010 elections should push through as scheduled.
I just don't believe them.
The 2010 presidential elections is 11 months from now. Congress will not resume session until late July after President Gloria Macapagal Arroyo's State of the Nation Address. I don't see how they find the time to rewrite the Constitution with barely a year to go before the May 2010 elections.
I want to look back and think that the democracy I fought (together with our fellow countrymen) for my children was not in vain. I'd like to believe that the 1987 Constitution that established the Philippines continues to be a "democratic and republican State", where "sovereignty resides in the people and all government authority emanates from them"
I don't see any reason for this Constituent Assembly. I am sad and angry at their actions. How dare them? Sovereignty lies in us, the people. Shame on you, congressmen. Do you really know if the charter change is what we want at the present time? Do you represent the voice of your respective constituents?
Do I need to repeat it?
Our Congressmen signed a resolution to convene a Constituent Assembly that will practically extend their terms:
OPPOSE ANY CHARTER CHANGE PERPETUATING GMA AND HER ALLIES IN POWER!
Matrix House Proposed Charter Amendments
Philippine democracy, time of death: 11:32pm GMT +8, June 2, 2009.
Oppose The Constituent Assembly
1. Mobilization against ConAss Today! (June 3)
To protest against the passage of this patently unconstitutional law and the delay of the promulgation of more important bills, students from all over Metro Manila will congregate tomorrow at 1:00pm in front of the St. Peter's Church along Commonwealth Ave.
2. Youth groups will protest today, 11:30 AM assembly at Bustillos Church, near LRT2 Legarda in Sampaloc, Manila then march to Mendiola to condemn railroading of Con-Ass resolution
UP students can converge earlier at AS (Palma Hall) Lobby at around 10 AM, then proceed together to the protest venues
3. visit Notoconass.com and if you agree, sign on and spread the word.
4. If you feel you've been conned. Join June 7/4pm/Baywalk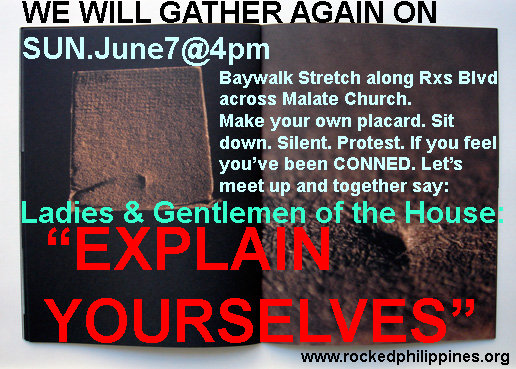 5. If you believe in preserving our Constitution, put these badges up in your blog: (Thanks Andrew)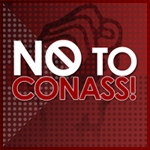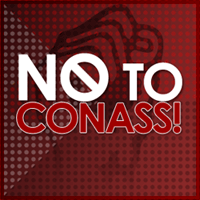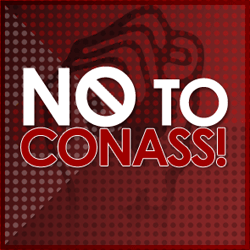 (Please don't hyperlink. Download to your desktop and upload to your photo site)
6. Read more on the Charter Change and decide your position. Be updated.
Matrix House Proposed Charter Amendments
Also, read through other blogs and see below if your congressman approved the House Resolution No. 1109 , then ask them their reason for their approval.
Related Blogs & News
Current to Oldest
In mortal dread of a democratic plebiscite by Raul Pangalangan (He dissects HR 1109)
News analysis: Is Mancao's return part of con-ass plan? by Raissa Robles
Stop Gloria Forever Moves! Kick ConAss! from the Akbayan Executive Committee
No to Conass Badges by Andrew de la Serna
Have You No Shame? An Open Letter to the House of Representatives by Marck
Dear Congressman Nograles by Ria
In the Grip of Electoralism by Caffeine Sparks
Lighting the Beacons for a Phoney War? by Manolo Quezon
'Gang rape' of Charter should outrage Filipinos – Bernas, GMA News TV
Get a Grip by Benign0 (contrary opinion but sincere)
There's a Reason we Call it Con-ass by Bikoy
House Resolution No. 1109 and the People by Juned

The Lone Ranger Chacha of The House by Congressman Ruffy Biazon.
The Pronoun 'ITS' in Con-Ass Rez by Dean Jorge Bocobo
Approval of HR 1109–like a thief in the night, they again robbed the Filipinos of their democratic rights by Dine Racoma
Good Morning Manila, The Asses have it by Cocoy
#conass twitter stream archive as of 0530 june 3, 2009 compiled by Cocoy
HR 1109 in the Plenary, Live Blog by Caffeine Sparks
Showdown ? by Manolo Quezon
Useless Congressmen who Signed HR 1109
Read the list of congressmen here who signed House Resolution No. 1109. (Those who voted "Aye" may not have signed this HR 1109.)
Feel free to copy and paste this list to your blog post or Facebook note or other social media sites and state
"I am ashamed of my Congressman (enter name if applicable, district) for supporting HR1109."
NAME DISTRICT/ AREA
ABANTE, BIENVENIDO M. "BENNY" 6TH District Pandacan
ABLAN, ROQUE R. JR Ilocos Norte, 1st District
AGBAYANI, VICTOR AGUEDO E. Pangasinan, 2nd District
AGYAO, MANUEL, S Kalinga Province
ALBANO (III), RODOLFO T. Isabela, 1st District
ALFELOR, FELIX R. JR. 4th District, Camarines Sur
ALMARIO, THELMA Z. Davao Oriental, 2nd District
ALVAREZ, ANTONIO C. Palawan 1st District
ALVAREZ, GENARO RAFAEL M. JR. Negros Occidental, 6th District
AMANTE, EDELMIRO A. Agusan Del Norte, 2nd District
AMATONG, ROMMEL C. Compostela Valley, 2nd District
ANGPING, MARIA ZENAIDA B. Manila, 3rd District
ANTONINO, RODOLFO W. Nueva Ecija, 4th District
APOSTOL, TRINIDAD G. Leyte, 2nd District
AQUINO, JOSE S. (II) 1st District Agusan del Norte
ARAGO, MARIA EVITA R. 3rd district, Laguna
ARBISON, A MUNIR M. Sulu 2nd District
ARENAS, MA. RACHEL J. Pangasinan, 3rd District
ARROYO, DIOSDADO M. Camarines Sur, 1st District
ARROYO, IGNACIO T. 5th district Negros Occidental
ARROYO, JUAN MIGUEL M. 2nd District of Pampanga
BAGATSING, AMADO S. Manila 5th district
BALINDONG, PANGALIAN M. Lanao del Sur, 2nd District
BARZAGA, ELPIDIO F. JR. Cavite, 2nd District
BAUTISTA, FRANKLIN P. Davao Del Sur, 2nd District
BELMONTE, VICENTE F. JR. Lanao del Norte, 1st District
BICHARA, AL FRANCIS C. Albay, 2nd District
BIRON, FERJENEL G. Iloilo, 4th District
BONDOC, ANNA YORK P. Pampanga 4th District
BONOAN-DAVID, MA. THERESA B. Manila, 4th District
BRAVO, NARCISO R. JR. Masbate, 1st District
BRIONES, NICANOR M. AGAP Party list
BUHAIN, EILEEN ERMITA Batangas, 1st District
BULUT, ELIAS C. JR. Apayao Lone District
CAGAS (IV), MARC DOUGLAS C. Davao Del Sur, 1st District
CAJAYON, MARY MITZI L. Caloocan, 2nd District
CAJES, ROBERTO C. Bohol, 2nd District
CARI, CARMEN L. Leyte, 5th District
CASTRO, FREDENIL H. Capiz, 2nd District
CELESTE, ARTHUR F. Pangasinan, 1st District
CERILLES, ANTONIO H. Zamboanga Del Sur, 2nd District
CHATTO, EDGARDO M. Bohol, 1st District
CHONG, GLENN A. Biliran, Lone District
CHUNG-LAO, SOLOMON R. Ifugai, Lone District
CLARETE, MARINA C. Misamis Occidental, 1st District
CODILLA, EUFROCINO M. SR. Leyte, 4th District
COJUANCO, MARK O. Pangasinan, 5th District
COQUILA, TEODULO M. Eastern Samar, Lone District
CRISOLOGO, VINCENT P. Quezon City, 1st District
CUA, JUNIE E. Quirino, Lone District
CUENCO, ANTONIO V. Cebu City, 2nd District
DANGWA, SAMUEL M. Benguet, Lone District
DATUMANONG, SIMEON A. Maguindanao, Lone District
Dayanghirang, Nelson L. Davao Oriental, 1st District
DAZA, NANETTE C. Quezon City, 4th District
DAZA, PAUL R. Northern Samar, 1st District
DE GUZMAN, DEL R. Marikina City, 2nd District
DEFENSOR, ARTHUR D. SR. Iloilo, 3rd District
DEFENSOR, MATIAS V. JR. Quezon City, 3rd District
DEL MAR, RAUL V. Cebu City, 1st District
DIASNES, CARLO OLIVER D. (MD) Batanes, Lone District
DIMAPORO, ABDULLAH D. Lanao Del Norte, 2nd District
DOMOGAN, MAURICIO G. Baguio, Lone District
DUAVIT, MICHAEL JOHN R. Rizal, 1st District
DUENAS, HENRY M. JR. Taguig, 2nd District (2nd Councilor District)
DUMARPA, FAYSAH MRP. Lanao del Sur, 1st District
DUMPIT, THOMAS L. JR. La Union, 2nd District
DURANO (IV), RAMON H. 5th District, Cebu
ECLEO, GLENDA B. Dinagat Islands, Lone District
EMANO, YEVGENY VICENTE B. Misamis Oriental, 2nd District
ENVERGA, WILFRIDO MARK M. Quezon, 1st District
ESTRELLA, CONRADO M. (III) Pangasinan, 6th District
ESTRELLA, ROBERT RAYMUND M. ABONO Party List
FERRER, JEFFREY P. Negros Occidental, 4th District
GARAY, FLORENCIO C. Surigao Del Sur, 2nd District
GARCIA, ALBERT S. Bataan, 2nd District.
GARCIA, PABLO JOHN F. Cebu, 3rd District
GARCIA, PABLO P. Cebu, 2nd District
GARCIA, VINCENT J. Davao City, 2nd District
GARIN, JANETTE L. Iloilo, 1st District
GATCHALIAN, REXLON T. Valenzuela City, 1st District
GATLABAYAN, ANGELITO C. Antipolo City, 2nd District
GO, ARNULFO F. Sultan Kudarat, 2nd District
GONZALES, AURELIO D. JR. Pampanga 3rd District
GONZALES, RAUL T. JR. Ilo ilo City
GULLAS, EDUARDO R. Cebu, 1st District
GUNIGUNDO, MAGTANGGOL T. Valenzuela City 2nd District
HOFER, DULCE ANN K. Zamboanga Sibugay, 2nd District
JAAFAR, NUR G. Tawi-Tawi, Lone District
JALA, ADAM RELSON L. Bohol, 3rd District
JALOSJOS, CESAR G. Zamboanga del Norte, 3rd District
JALOSJOS-CARREON, CECILIA G. Zamboanga del Norte, 1st District
JIKIRI, YUSOP H. Sulu, 1st District
KHO, ANTONIO T. Masbate, 2nd District
LABADLABAD, ROSENDO S. Zamboanga del Norte, 2nd District
LACSON, JOSE CARLOS V. Negros Occidental, 3rd District
LAGDAMEO, ANTONIO F. JR. Davao del Norte, 2nd District
LAPUS, JECI A. Tarlac, 3rd District
LAZATIN, CARMELO F. Pampanga, 1st District
LIM, RENO G. Albay, 3rd District
LOPEZ, JAIME C. Manila, 2nd District
MADRONA, ELEANORA JESUS F. Romblon, Lone District
MAGSAYSAY, MARIA MILAGROS H. Zambales, 1st District
MALAPITAN, OSCAR G. Caloocan, 1st District
MAMBA, MANUEL N. Cagayan, 3rd District
MANGUDADATU, DATU PAKUNG S. Sultan Kudarat,
MARANON, ALFREDO D. III Negros Occidental, 2nd District
MATUGAS, FRANCISCO T. Surigao del Norte, 1st District
MENDOZA, MARK LEANDRO L. Batangas, 4th District
MERCADO, ROGER G. Southern Leyte, Lone District
MIRAFLORES, FLORENCIO T. Aklan, Lone District
NAVA, JOAQUIN CARLOS RAHMAN A. (MD) Guimaras, Lone District
NICOLAS, REYLINA G. Bulacan, 4th District
NOGRALES, PROSPERO C. Davao City, 1st District
OLAñO, ARREL R. Davao Del Norte, 1st District
ONG, EMIL L. Northern Samar, 2nd District
ORTEGA, VICTOR FRANCISCO C. La Union, 1st District
PABLO, ERNESTO C. APEC Party List
PANCHO, PEDRO M. Bulacan, 2nd District
PANCRUDO, CANDIDO P. JR. Bukidnon, 1st District
PICHAY, PHILIP A. Surigao Del Sur, 1st District
PIñOL, BERNARDO F. JR. North Cotabato, 2nd District
PUNO, ROBERTO V. Antipolo City, 1st District
RAMIRO, HERMINIA M. Misamis Occidental, 2nd District
REMULLA, JESUS CRISPIN C. Cavite, 3rd District
REYES, CARMENCITA O. Marinduque, Lone District
REYES, VICTORIA H. Batangas, 3rd District
ROBES, ARTURO G. San Jose Del Monte City, Lone District
Rodriguez-Zaldarriaga, Adelina Rizal, 2nd District
ROMAN, HERMINIA B. Bataan, 1st District
ROMARATE, GUILLERMO A. JR. Surigao del Norte, 2nd District
ROMUALDEZ, FERDINAND MARTIN G. Leyte, 1st District
ROMUALDO, PEDRO Camiguin, Lone District
ROMULO, ROMAN T. Pasig City, Lone District
ROXAS, JOSE ANTONIO F. Pasay City
SALIMBANGON, BENHUR L. Cebu, 4th District
SALVACION JR., ANDRES D. Leyte, 3rd District
SAN LUIS, EDGAR S. Laguna, 4th District
SANDOVAL, ALVIN S. Malabon-Navotas, Lone District
SANTIAGO, JOSEPH A. Catanduanes, Lone District
SANTIAGO, NARCISO D. (III) ARC Party List
SEACHON-LANETE, RIZALINA L. 3rd district of Masbate
SEARES-LUNA, CECILIA M. Abra, Lone District
SILVERIO, LORNA C. Bulacan, 3rd District
SINGSON, ERIC D. Ilocos Sur, 2nd District
SINGSON, RONALD V. Ilocos Sur, 1st District
SOLIS, JOSE G. Sorsogon, 2nd District
SOON-RUIZ, NERISSA CORAZON Cebu, 6th District
SUAREZ, DANILO E. Quezon, 3rd District
SUSANO, MARY ANN L. Quezon City, 2nd District
SY-ALVARADO, MA. VICTORIA R. Bulacan, 1st District
SYJUCO, JUDY J. 2nd Dsitrict, Iloilo
TALINO-MENDOZA, EMMYLOU J. North Cotabato, 1st District
TAN, SHAREE ANN T. Samar, 2nd District
TEODORO, MARCELINO R. Marikina City, 1st District
TEODORO, MONICA LOUISSE PRIETO Tarlac, 1st District
TEVES, PRYDE HENRY A. Negros Oriental, 3rd District
TUPAS, NEIL C. JR. Iloilo, 5th District
UNGAB, ISIDRO T. Davao City, 3rd District
UY, EDWIN C. Isabela, 2nd District
UY, REYNALDO S. Samar, 1st District
UY, ROLANDO A. Cagayan De Oro City, Lone District
VALDEZ, EDGAR L. APEC Party List
VALENCIA, RODOLFO G. Oriental Mindoro, 1st District
VARGAS, FLORENCIO L. Cagayan, 2nd District
VILLAFUERTE, LUIS R. Camarines Sur, 2nd District
VILLAROSA, MA. AMELITA C. Occidental Mindoro, Lone District
VIOLAGO, JOSEPH GILBERT F. Nueva Ecija, 2nd District
YAP, JOSE V. Tarlac, 2nd District
YU, VICTOR J. Zamboanga Del Sur, 1st District
ZAMORA, MANUEL E. 1st District, Compostela Valley
ZIALCITA, EDUARDO C. Parañaque, 1st District
——————–
Here is another list of the members of the House of Representatives whose names are on House Resolution 1109, broken down by regions.