"In the end, sites that blend professional journalists with amateur, citizen journalists will probably do well," Jay Rosen
(I have a perfect excuse why this blog has not been updated for almost a week. Holed up in the mountainous area of Laguna, internet connection was just painfully slow to do anything except check email, whine in Plurk , Facebook, Twitter. But I am back.)
I always feel stumped whenever I get invited to meet the "presidentiables". These politicians don't impose a definite agenda for these blogger meetings except perhaps to be known to our community or searchable in online media. I have talked to the likes of Senator Manny Villar, Senator Mar Roxas, Mayor Binay, Bayani Fernando, Erap, Loren Legarda but I still don't know much about them. Just to veer away from the usual overplayed news by old media, I try to be more meaningful by delving on concrete platforms. Not just what? but how?
The next question I ask myself is, why am I doing this anyway? My blog is mainly a parenting blog yet I care a lot about the future of the country because my children are part of the voting population. Yes, I love my country and continue to hope that a leader will bring us forth to prosperity and a bright future for my children. The least I can do is to share my hope to all of you. As a blogger, my resources are limited to commentary, opinions and observations. I know I need to surpass myself than just being a mom blogger. I believe voter's education is crucial at this point because an automated election (If supreme court decision does not stop it) is the first in Philippine history. There is so much to learn. Technology can be intimidating to the technophobes.
The 2008 USA election has been called the YouTube election, the Facebook election, the new media election and so on. I can see that our local politicians are also making use of the same strategy. I see them scrambling ways to make the most of blogs, bloggers, Facebook, online video, plurk, Twitter and all of the new tools out there. My initial belief was that it is high time for the new media, including bloggers, to take over where traditional newspaper, radio broadcasters and television journalists have failed, well until I received a training invitation.
The invitation from Philippine Center for Journalism (PCIJ) for a training seminar on "Covering Elections in the Era of Internet and Automation" was just so timely. It is good that PCIJ realize that emerging new media practitioners have some influence in readers. A good media coverage for this election help build credibility in the result of the election. This was my opportunity to learn the skills and knowledge in covering the election.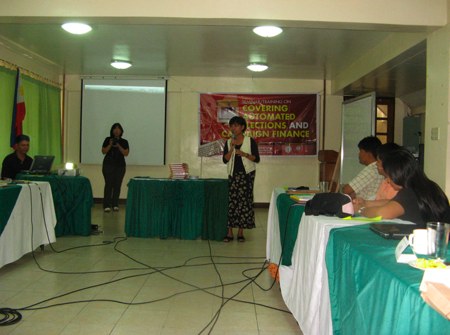 I received an overload of information but which will surely become useful when I am faced with a presidentiable or a candidate or even an election issue. Campaign Finance for instance is overlooked by media. Journalists tend to fire up election violence or cover mudslinging or scandals and the exchange of accusations between parties and politicians becomes ""entertainment". Reality is scandal and bitching drama sells but I believe that we can still strike a balance of presenting this story to the public. For instance, when I discuss a scandal in my blog, I close it with a positive resolution or lessons learned. Then we are faced with campaigns becoming a talent show with candidates being contestants as they cajole voters into their song and dance number.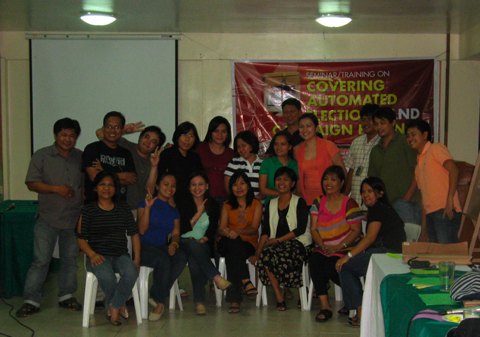 What interested me most are the underplayed stories that media need to cover such as voters' education, campaign fund sources and expenditure, background of candidate especially their personal background and political background. I am sure voters want to gather informed choices on candidates platform in an easy-to-read format and presented with objectivity and disclosures of conflict of interest.
The possibility that media will pool resources to ensure credibility of the elections will be a reality when we will work as a team (through PCIJ's assistance) instead of competing to get scoops. As a blogger, I don't share the problems faced by editorial policies of a media outfit. I can easily establish my own editorial policy that will be culled from the best practices of the Philippine Press Council Code of Ethics on Covering Elections
1. Pay your way
2. Do not cash cash or gifts in kind from politicians and political parties
3. Do not moonlight with political parties
4. Beware of surveys
5. Declare conflicts of interest
6. Draw the link between your journalism and your money making ventures
7. Do not abuse and misuse your privileges as journalist
My dream story for the Election 2010 is not set in stone but for those who have the resources or bloggers that will pool resources, topics like youth vote, the effect of infomercials on voter's decision, automation, role of technology in election is a good start. I will definitely devote a page in this blog for Voters Education and equal opportunity of candidates to be known to the voting population.
At the end of this four-day training course, I actually gained a better understanding of the political and electoral system in the country and on the role of media in covering elections. I now believe that old and new media can easily complement each other where one or the other medium fails to deliver.
The best part of this training seminar is I gained new friends in traditional media who I just watched on TV or read in print or hear over the radio. I felt so honored to learn from their experiences and even sing and laugh with them after our training sessions.
So stay tuned when I launch my Voters' Education Page and the collaboration of resources and database with PCIJ and traditional media.
the Philippine Center for Investigative Journalism (PCIJ), with support from the International Foundation for Electoral Systems (IFES) and the United States Agency for International Development (USAID), is conducting a series of training seminars on Covering Elections in the Era of Internet and Automation in the next six months.