This is my #juanvote Blog Action day post:

It is five days before May 13, 2013.
I made a choice.
I have only three in my list.
You ask, ""So who are you voting?"
It does not matter who my candidate is. As project editor of Blogwatch.ph, it is prudent that I keep that choice privately. Oh yes, netizens, friends, and relatives  ask me and I tell them my choices and the reasons behind my choice and why I did not vote for the others .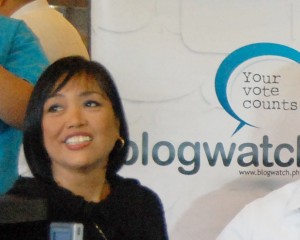 Certain quarters cannot distinguish me as a voter and me, as the editor.  I want Blog Watch to remain non-partisan. I can tell you  though that I will vote with my conscience.
My decision was based on an article I wrote  Voting matrix: How to select a candidate to vote for as senator .


Click to enlarge
This election day is start of new things to come. Changes need to be made. Enough of political dynasty. There is no law that stops them from running but my vote may make a difference if I start today. I voted for you because you are not associated with a dynasty.
I made a choice to vote those NOT associated with a fat political dynasty (having immediate family members running or currently holding an elective position) .
Why the big deal on political dynasty?  Most say the people decide on election day. This is democracy. But is it really democracy?  My rationale is based on the explanation from  the Policy Study, Publication, and Advocacy (PSPA) Center for People Empowerment in Governance (CenPEG) October 3, 2012)
The concentration, expansion, and consolidation of political dynasties over the past 100 years attests to the continuing hegemony of feudal politics, the absence of any form of real democracy, and the continued powerlessness of a vast marginalized majority in the Philippines. Definitely alarming today is the entrenchment of the system of political dynasties on a higher and blatant scale making the fair representation of the large majority of Filipinos even more elusive.
Two of the seven desired criteria I identified carried the most weight :  supportive of women's rights (maternal health) and standing up for children rights. The rest of my desired criteria were:
1. voting to repeal/amend the cybercrime law,
2. promotion of small and medium enterprises,
3. in favor of an anti-political dynasty law
4. Supportive of a divorce law
5. a pro-environmental platform .
These are my beliefs and issues that hold dear to me.  Your track record, competence and platforms were indeed good factors to consider in my decision making process.  The other non-quantifiable aspect is gut feel and your campaign strategy.
The way a candidate handles his/her campaign gives me an insight to the governance of this candidate.
I know impressions can be misleading  but I trust my gut feelings on my experience dealing with you. (Hint: my candidates are three of those Blog Watch interviewed: View Summary of podcast of the 10 candidates : Jun Magsaysay, Teddy Casino, Risa Hontiveros, Koko Pimentel, Edward Hagedorn, Cynthia Villar, Alan Peter Cayetano, Tingting Cojuangco, Gringo Honasan and Jack Enrile.) . I placed a big weight on this because I know you are busy but took time to talk two hours with ordinary citizens.
As a citizen-voter, I will practice continued vigilance and participate in governance.
I will participate in legislating laws through legislative advocacy, a process of engaging with the legislature and other governmental and social institution to ensure that the concerns and welfare of the general electorate be articulated in the deliberations of bills and other legislative measures as well as in the final versions of laws.
I know you will be good for the country and the future of my children's children.
Sincerely,
@momblogger on Twitter
P.S. Here are other letters dedicated to you
A background material on political dynasties:
CenPEG Analysis : Horizontal and Vertical Expansion of Political Dynasties