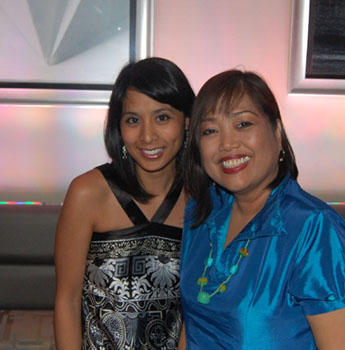 Happy Slip (Christine Gambito) is in town since December 9 and I only found out today. Yehey invited a few bloggers for dinner at Alchemy for a sneak peak of Department of Tourism (DOT) and MTV plans for 2009. The intimate dinner gave us lots of time to chit-chat in a very informal setting. I am once again reunited with
Happy Slip
and this time we had more time to talk about
Filipina dating online ads appearing in her myspace account
which is now deleted.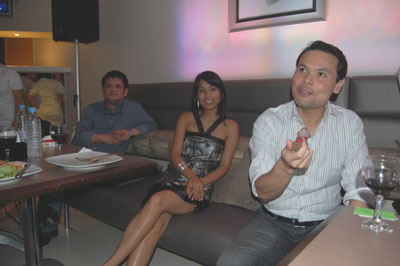 The most important agenda of yesterday's dinner was presented by Secretary Ace Durano who presented a sneak peak of DOT and MTV's plans for 2009 and to be launched on February 2009. That's why Happy Slip is in town, as part of the taping for MTV's ads for Philippine tourism. Shooting started in Boracay and tomorrow it will be in Cebu then other provinces.
So what is this all about?
With an eye on the growing market of youth adventure travelers, the Philippines Department of Tourism (PDOT) partners with MTV Networks for a "hip, contemporary" global campaign — MTV Revelations, to promote Philippines as a destination for young adults and music lovers.
MTV Revelations is being created for twelve markets: Australia, Canada, China, Hong Kong, Japan, Korea, Malaysia, Philippines, Singapore, Taiwan, U.K. and U.S.A., enabling millions of young adults worldwide to discover the "Awesome Philippines" through the eyes of MTV. The highly visual MTV Revelation to be launched in February 2009 will underscore a series of TV spots featuring MTV VJs from different countries talking about their personal experiences in the Philippines in a fun and fresh way. The campaign will change the way youths view the Philippines.
The MTV Revelations campaign includes a series of TV vignettes featuring MTV VJs' personal stories and experiences in the Philippines as well as a variety of web activities synergized with local relevance to reflect the different style, culture and tone of each market. This strategy combines MTV's successful localization efforts to be more bespoke on air and online.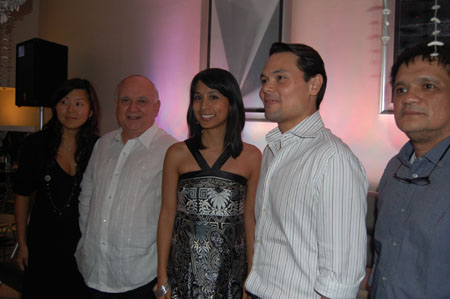 "MTV knows its demographics best. Its VJs and onscreen personalities, for instance, have the credibility to reach out to the same youth market we are targeting. The partnership is a strategic fit and ensures continuity of demand as 70% of the Philippines' tourist mix comes from the youth travelers" said Tourism Secretary Joseph 'Ace' Durano.
Secretary Durano and MTV are really excited with this latest project which will culminate in a Rockapelago Concert on November 2009 with international artists who are of Filipino Ancestry such as Nicole Scherzinger of Pussycat Dolls and Apple from the Black Eyed Peas. The final list of artists will be made available once they actually arrive in the country. It's quite understandable because artists' schedules are often erratic.
Their excitement was such that they just had to promote their plans first through bloggers before traditional media. It's awfully nice that Secretary Durano took his time to understand blogging as a medium just as the bloggers were curious about DOT's plans. I didn't know that one could call a number at ExperiencePhilippines.ph to ask for hotels and accommodations anywhere in the country.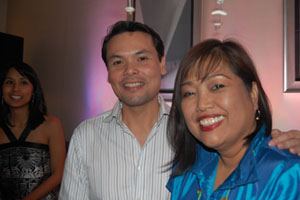 What surprised me most that night was when Secretary Durano said that he knew about my son's death. I wondered how he knew. Not about to kill the conversation amongst the bloggers, I reserved my question till after everyone was done. Wow, he was actually in Cebu in 2000. Maybe news does spread fast in Cebu. The clueless me asked what he was doing in Cebu during those times.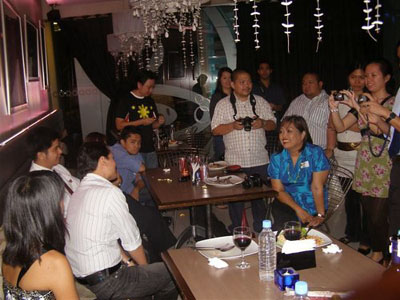 (Photo via Azrael
Oh my gosh, I got so embarrassed when he said he was a Congressman. I kept apologizing about my ignorance but he was quick to say that he was a quiet congressman. He didn't give me a condescending look of "You don't know me?" That's a trait that endeared me to the Secretary.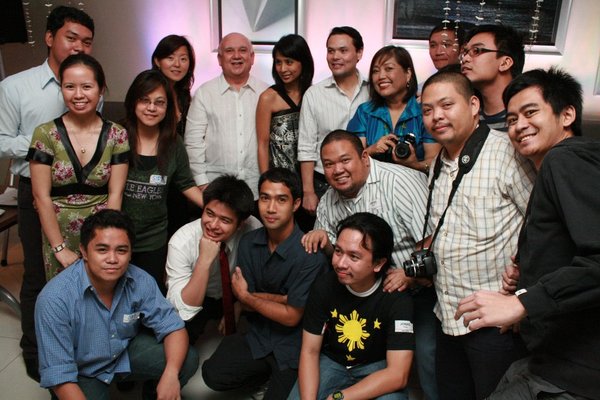 (Photo via Carl)
I really enjoyed tonight's event with my fellow bloggers. It is not often that I really get to stay long enough to mingle and talk after an event. Secretary Durano didn't seem to be in rush to leave while Happy Slip was stayed with us till 10:00 PM past. The night felt so vibrant and alive.
Looking forward to 2009 and traveling to neighboring provinces and cities,
More Photos of the DOT-MTV Sneak Peak of 2009
(Source of MTV Revelations: einnews.com)
Other related blogs
Azrael – Rockapelago event meeting with MTV, DOT, HappySlip and Bloggers