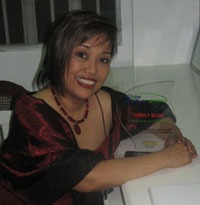 My feet are killing me! For 2 hours, I walked the Carlos P. Romulo Auditorium lobby to cajole guests to eat cocktails and be merry. Well, what a day! I got a surprise! I received a special award from Globe Broadband : the Family Blog Award which is meant to honor family-oriented blogging. It's indeed an honor to receive the Family Blog Award as it helps promote my blog's advocacy. Of course, I never imagined myself to be a recipient of any award for tonight's [tag]Philippine Blog Awards[/tag] since I chaired the Venue and Food Committee. I learned that Globe Broadband/Innove guys thought of this idea and selected their winners based on their own criteria. What an innovative way to promote brand name recall and recognition to a very special niche. It's a good thing that my Globelines Broadband Internet is working well so far or else I would not have been happy to receive this award.
Other awards given out by Globe Broadband were
1. Blog Achievement Award" The Mommy Journals
2. Pinoy Ako Blog Award: ederic@cyberspace
3. Blogirl Award: Well Whatever
4. Deliblog Award: Dessert Comes First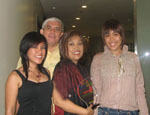 The best thing about receiving the Family Blog award is that my whole family attended the Awards Night with me. They enjoyed the food (thanks Josiah's Catering), the bloggers and just being there with me. All my family members maintain a blog except that Butch and M chose to keep a private url. So it was quite an exciting adventure for them to see/meet the person behind the blog that they have been reading for ages.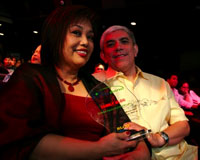 (Photo courtesy of Anton)
The night flew so fast…In just one hour and half, winners were announced.
The winners of the 16 categories are:

Best Personal Blog: Misteryosa
Best Home & Living Blog: Wifely Steps
Best Socio-Political Blog: Philippine Commentary
Best News & Media Blog: Inside PCIJ
Best Fashion & Lifestyle Blog: Bryanboy: Le Superstar Fabuleux
Podcast of the Year: HappySlip
Best Technology Blog: Leon Kilat: The Cybercafe Experiments
Best Business/Entrepreneur Blog: Reflections of a BizDrivenLife
Best Entertainment Blog: Retzwerx
Best Sports & Recreation Blog: Who rides a Vespa?
Best Travel Blog: Ivan About Town
PhotoBlog of the Year: Señor Enrique: Wish You Were Here
For the Special Awards winners, we have…
Best Blog Design: Far from Neutral Notions
Best Free Custom Theme: Blu3zin3
Best Plugin/Extension: iPap
Best OFW Blog: Kwentong Tambay
Bloggers' Choice Awards: MarketManila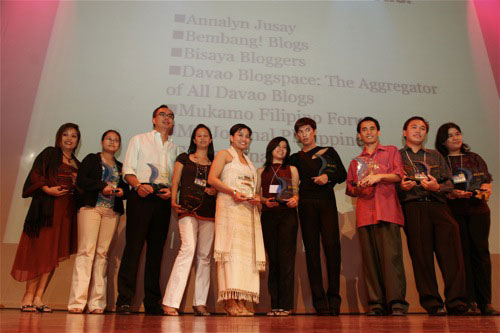 (Photo courtesy of Anton)
Spotted for the first time in Blog events were celebrity bloggers like


Bryanboy of bryanboy.com . Photographers were all over him as he posed graciously with us. Bryanboy is such a fun person and so nice to his adoring yaya who waited on him.


That's me handing out the trophy to Bryanboy for winning the Best Fashion & Lifestyle Blog

Anton of , Awesome Planet, Joel of MarketManila and Lori of Dessert Comes First
and who else

Connie of, the The Sassy Lawyer and of The Mommy Journals and my co-founder of Pinoy Moms Network
Tonight marked the day that blogging in the Philippines is brought to a new level. The winners showed to the world that we are serious about blogging, that "our growth is only matched by our desire to create a unique online identity; our maturity is moved by creativity and the drive to push meaningful content; our credibility is carried by our passion to be heard, to engage and to be counted." I feel vindicated again with the pioneering efforts of the Philippine Blog Awards. I have mentioned before that I received so much flak and ridicule from in-laws and even from my own husband during those days (mid nineties) when I first worked on websites.
Congratulations to all the winners, the organizers, the judges, sponsors, and the hard-working volunteers.
There's a post party event at the EDSA Shangrila but I am not young anymore to party all night. hehe
I'm sleepy. I will blog more later. Meantime, visit the Philippine Blog Awards website , Michael's Philippine Blog Award Musings and view a few Photos of the 2007 Philippine Blog Awards and excellent photos from Chris Haravata and Karla Redor.
and some selected photos:
With Organizers, Abe and Gail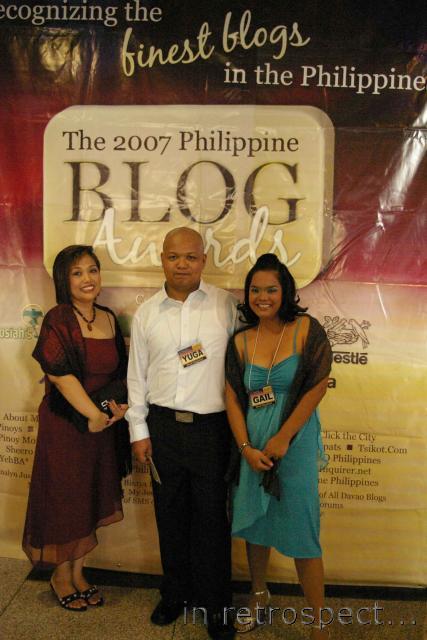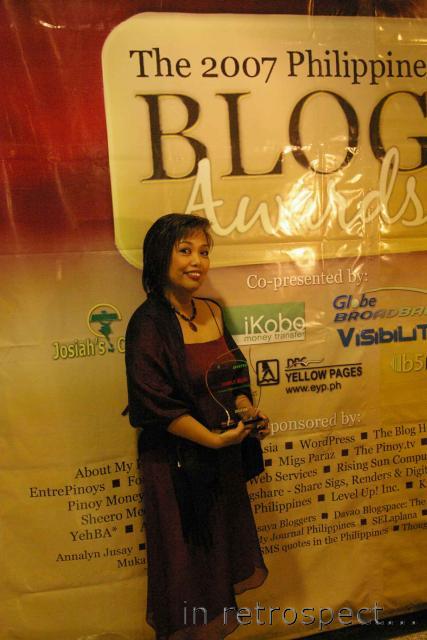 (Photos courtesy of harvata.com)