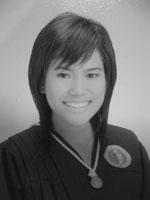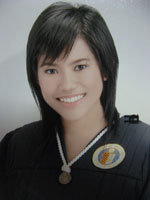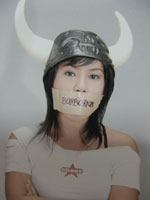 Lauren gave me a couple of her [tag]yearbook photos[/tag].
Tomorrow is her [tag]graduation day[/tag]. All week long, she has been wailing…
"I can't believe I am graduating!" I assure her that we are just as shocked. Shocked that another milestone marks her parent's lives. Shocked that we are getting older.
The other day, Butch turned to me as he drove the car "can you believe ? our daughter is graduating?"
I can believe it.
Tomorrow is the Commencement Exercise at 4:00 PM for the School of Humanities and School of Social Sciences. She will have a long day. Her day will start with a Baccalaureate Mass at 7:30 AM then a graduation rehearsal at 11:00 AM.
What a disappointment that after paying such a huge sum of tuition averaging 55,000 pesos a semester or a total of more than half a million pesos for Lauren's college years, we , the parents have to endure the tropical heat at the high school covered courts, the venue of the commencement exercise.
Other universities lease an airconditioned facility just to make the ceremony as memorable and comfortable as possible. Should I be complaining? Yes! I believe that at this time of the year, the heat is just very unbearable. Imagine these kids will be wearing a toga !
As my daughter finally bids farewell to her school, I too will say goodbye to the Ateneo Parents' School Council ASPAC) of which I was an active parent member for the past 4 years. I had no idea on what the Ateneo education was all about so I joined ASPAC. Instead of complaining about this and that, I took active part in academic forums for parents. It was quite a learning experience for me. I developed the ASPAC website and Helpdesk feature as part of my projects. What happens to the ASPAC website when I leave? I hope it continues on.
I feel like I am graduating too now that I have to bid farewell to the other ASPAC parents who still have kids in Ateneo.
But my work is done. I have a daughter who will spread her wings and soar high to attain her goals.
As I read the dedication behind her yearbook photos, I hug and thank her. I can't believe my little girl is so grown up now.