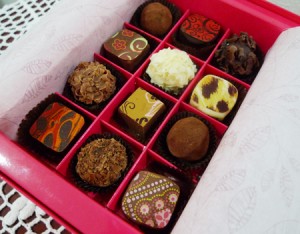 I feel guilty whenever I am away from home. Even if the girls are all grown up, I am just so used to being a stay-at-home mom working at the comfort of my bedroom. As election day nears, I find myself out of the house more often than I ever had in my married life.
Food never fails to bring us together. Last friday, I brought in extra food from a Yehey interview with Erwin Genuino, a Makati mayoral candidate. I sent an SMS to everyone "I am on my way home. Bringing food from Sentro." It was 9:00 PM and to my surprise, everyone was home on a friday night. Getting the family together for dinner can be difficult especially with adult kids with an active social life.

Lauren brought out a pretty box of handmade swiss chocolates after we devoured all the food. The sight of such lovely chocolates extended normal eating time as we marveled at each concoction. Each chocolate tasted differently from the others.
Even with my erratic schedule, the late snack or dinner is the perfect time and place to reconnect and to show my kids that they are my priority.
Sitting across the table and hearing them banter about their work and life just made my day. Just being together like this lifted my spirits.
My guilty feelings now all washed away.