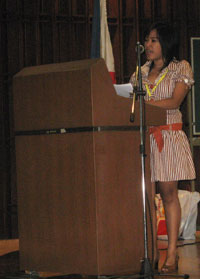 All day yesterday, Lauren complained how she was nervous over her topic "Do's and Don'ts of Personal Blogging for Iblog 3 Summit because it would be her first public speaking engagment. I told her not to worry and just be herself as if she were just blogging. True to form, she captured her audience with her wit and charm.Listen to Lauren's Podcast and judge for yourself. Her powerpoint can also be downloaded as you listen to her podcast. (Warning to sensitive readers: May contain Offensive language in the Podcast Intro)
In answer to the question if I read her blog. I know Lauren has a private blog since she entered college which I don't bother to find out but I read her public blog. Recently , I was asked if I cringe over the cuss words that she uses. Her blog is her way of expression and for me to censor it is just not right. She limits or avoids cuss words in front of us. I don't curse myself but her dad does. So how can I tell my own daughter not to say words when her own father does it?
And I finally met Dine!
Too bad I missed meeting with with Annamanila but got to meet Julie , a client and a contributor at Pinoy Moms Network.
Day 2 tomorrow and topics are quite interesting for bloggers who want to take their blogs on a higher level.
Blogging for Newbies
9:00 – 9:20 Abraham Olandres: Blogging Success Story (Philippines' Most Read Blogger)
9:20 – 9:40 Photoblogging Success Story (Anton Diaz)
9:40 – 10:00 Philippine Politics and the Blogosphere (Manuel L. Quezon III)
10:00 to 10:30 Break
Blogging Trends Track
10:30 to 10:50 Podcasting/Videocasting Growth Trends (Wilson Chua of eRadioPortal.)
10:50 to 11:10 Blogging / Web Marketing Trends (Aileen Apolo of Google.)
11:10 to 11:30 The New Prosumer (Norman Agatep of Euro 4D.)
11:30 to 12:00 Panel Discussion (Moderated by Janette Toral)
12:00 – 1:00 Lunch
1:00 to 1:15 Sponsor Talk by Globe
Blogging and Journalism Track
1:15 – 1:40 Blogging and Investigative Journalism (Alecks Pabico of PCIJ)
1:40 – 2:00 Blogging as Mainstream Media (Angelo Racoma of the Blog Herald)
2:00 – 2:20 TV Journalism and Blogging (Malou Mangahas of GMA Network)
2:20- 240 Panel Discussion (Moderated by Rachel Khan)
2:40 – 3:00 Break
Professional Blogging Track
3:00 – 3:30 Blogging for advancing one's career (Marc Hil Macalua)
3:30 – 4:00 Professional blogging (Jayvee Fernandez)
4:00 – 4:30 Increasing blog popularity (Gail Dela Cruz – Villanueva)
4:30 – 5:00 Raffle, group picture, networking