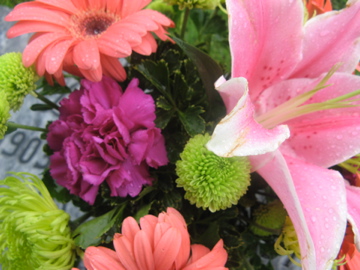 One of my fondest memory of Luijoe are the wild flowers he gathered from the park . With eyes twinkling as he held out the flowers, he scrambled up to my lap , gave me a hug and smacked a wet kiss on my cheek while uttering I love you so very much, Mama. Today it's my turn to get flowers for my boy because July 13 is his 14th birth anniversary. But who says there can't be a birthday cake, birthday present, or a birthday party?
Death ended my child's life but not his relationship with my family. Even if there is no birthday boy to celebrate his 14th birthday with, I know that a spritual bond exists between us. As I gaze at the lovely flowers I bought at the Market! Market!, I marvel at God's creation on the beauty of life. It's good to be alive and to have survived the past 7 years of this grief journey. True, my son might not be around but his memory lives in my heart. We can still celebrate his birth anniversary at home.
My husband took a leave from work so we could bring these flowers over to Luijoe's resting place. Memories of Luijoe saying , ""I love you so very much, mama" flooded my thoughts again. I smiled and felt the comfort of his love. As I laid down the flowers for Luijoe, I whispered "You know how much I love you, don't you?"
Knowing he is an angel, I know he can intercede to God for our prayer request . We prayed together and sought for guidance over the civil case we filed against the beach resort where Luijoe drowned 7 years ago. The mediation proceedings was supposed to happen today, Friday the 13th but the resort lawyers are superstitious. They didn't want to fly over to Manila on Friday the 13th so it was moved for next Friday.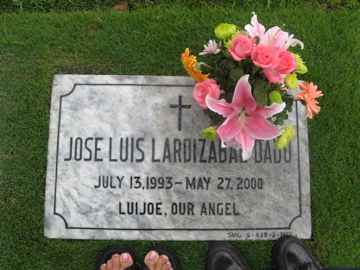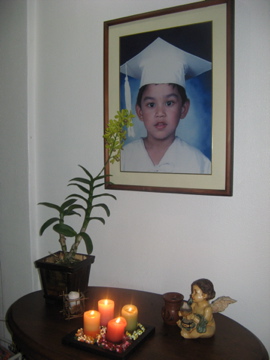 What is a celebration without a cake! As we cooked our dinner over the Korean Grill, four candles are lighted at Luijoe's memorial table. One candle represents our GRIEF, one for our COURAGE, one for our MEMORIES and one for our LOVE.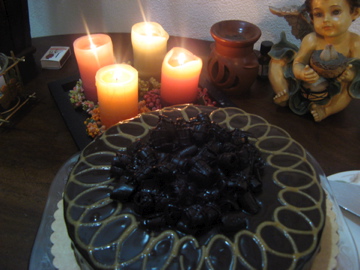 The legacy Luijoe left behind is a love that transcends time and space.