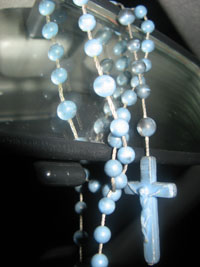 The blue rosary in the photo belongs to Luijoe. A month before he died, he placed it lovingly on the rear view mirror of my car so mama, you will always be protected. Little did he know that he would be in heaven a month later, watching over me and the rest of the family. The Holy Rosary played an important part in my son's life. My heart often tugs at the memory of my son chastising me for not saying my regular prayers. One night, he pulled me over to our bed because he wanted to pray the Rosary. This lazy mother begged off saying "I don't feel like it…it's too long to pray". That memory often brings me tears of regret that I wasn't supportive enough of my son's staunch faith in the Holy Rosary. I should have just prayed along with Luijoe even if I didn't feel like it. In the eulogy given by Luijoe's pre-school teacher, she talks of Luijoe as he prayed the rosary:
One time I assigned him to lead the rosary. He was murmuring. One of his classmates told him to speak louder. So loudly but seriously with a big voice he uttered the prayers. At the end of the rosary, all of his classmates clapped their hands. Then, he shouted innocently,"This is not a program..This is a prayer!"
Tears again well my eyes whenever I read this part of the eulogy. My beautiful son…so innocent, spiritual and devout, taken away too soon from me.
I am not a devout Catholic. I don't believe in reciting rote prayers like the novena except for the "Our Father". I still don't get the meaning of the rote recitation of the Holy Rosary. I pray from within my heart knowing the Holy Spirit lives in me. I respect other Catholics for being true to their faith so when Jun Asis requested me to promote the The Holy Rosary Podcast, I gave my wholehearted support.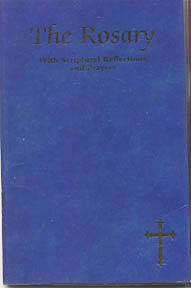 Fr. Stephen Cuyos, MSC and Jun Asis collaborated to record (do a podcast of) the rosary in Tagalog and posted it online so anybody can download it for free. Their aim is to get more people to pray the rosary, specifically in Tagalog (though any language would be fine as long as the devotion is practiced.). October is the month of the Holy Rosary and they figured that this would be a timely resource for anybody who would like to pray/know Ang Santo Rosaryo. Wouldn't it be great if mp3 players contained these files too – praying while commuting or waiting? How about the Filipinos abroad who would like to teach their kids Filipino prayers? Or maybe some parish or organization would need assistance to teach praying the rosary?
In honor of my son's memory and those devoted to the Holy Rosary, here it is for all of you to
Download the Holy Rosary Podcast- Tagalog Version
Download the Holy Rosary Podcast- English Version
Note: The Rosary Book photo above is Luijoe's Rosary Book.